Gain a Professional Edge in Competing for Jobs with Global Companies
This challenging program adds special requirements to the curriculum requirements of the student's major. Different than study or work abroad programs, the International Plan develops in-depth competency and the ability to function effectively in multi-national work environments.
International Plan work is integrated into the student's program of study, can be completed within the normal 4-year time frame, and is recognized on the transcript and diploma by the designation "International Plan." The plan entails globally-focused coursework, international experience, second language proficiency, and a capstone course in the student's major.
Ivan Allen College Majors Participating in the International Plan
Applied Languages and Intercultural Studies
Computational Media
Economics
Economics and International Affairs
Global Economics and Modern Languages
History, Technology, and Society
International Affairs
International Affairs and Modern Languages
Literature, Media, and Communication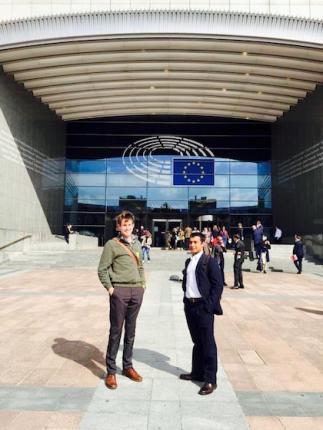 Some of our Student Ambassadors at the European Parliament during the Brussels European Union program.