'They Need Us. And We Need Them'
After nearly four years building a UN group on computing and society from the ground up, Associate Professor Michael Best returns to the Georgia Institute of Technology with a heightened sense of how our interdisciplinary approach is now more important than ever.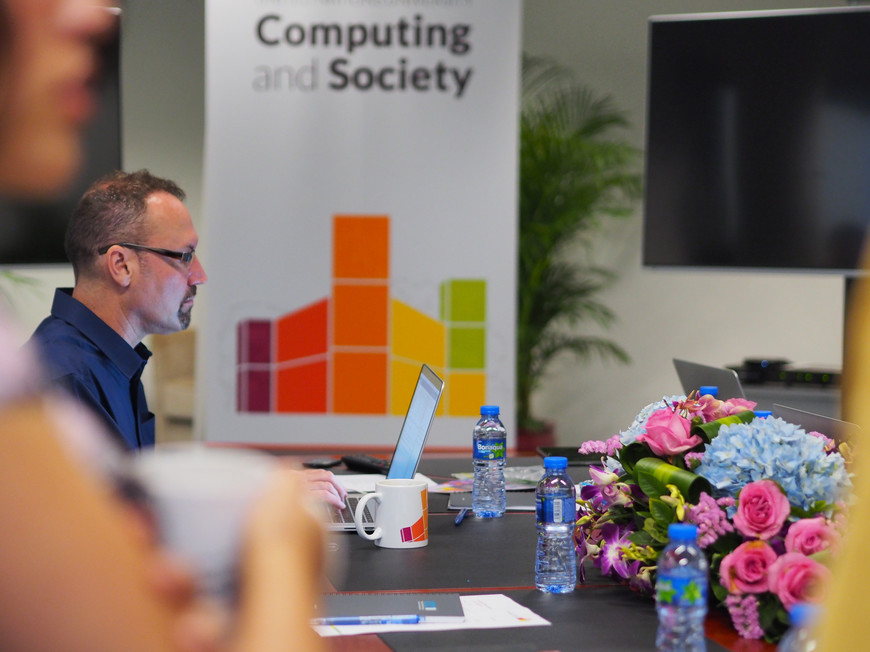 By Michael Pearson
When Georgia Institute of Technology Associate Professor Michael Best landed in Macau in 2015 to lead a new United Nations University initiative, the project consisted of him, an accountant, and a fading neoclassical mansion once owned by Portuguese writer and art collector Manuel de Silva Mendes.
When Best returned to Georgia Tech late this summer, he left in place a staff of 20 and a thriving research institute focused on improving gender equality in technology, striving to help save exploited workers from slavery, and to better the working lives of U.N. peacekeepers in Africa and beyond.
He brought back more than accomplishments and memories, however. He returned with a heightened appreciation for the United Nations, and of how Georgia Tech can help solve complex problems on the world stage.
"There's nothing at the U.N. that is a single-discipline problem. They don't just need a social scientist. They need a social scientist who understands emerging and frontier technologies," he said, honing in on the interdisciplinary education that is a hallmark of the Ivan Allen College of Liberal Arts. "They don't just need a computer scientist. They need a computer scientist who understands national security issues."
Working where information technology, development meet
U.N. officials chose Best — who holds appointments in the Sam Nunn School of International Affairs and the School of Interactive Computing — in 2015.
His mission: establish the United Nations University Institute on Computing and Society, a new U.N. research institute dedicated to understanding the intersection of information and communication technologies and international development.
The proposal was right in Best's wheelhouse, given that he's one of a relatively small number of scholars who focus on how computing and information and communications technologies (ICTs) impact economic, social, and political development.
'Working With Mike is Rewarding'
Best arrived in Macau, a Special Administrative Region of the People's Republic of China, in the spring of 2015, and spent his first months working on three fronts: repairing the Silva Mendes house, hiring staff, and creating the vision, goals, and strategies for a suite of projects. The breadth of management responsibilities was a new experience for him.
"I've always had a lab here at Tech and a handful of students and maybe a few other consultants. But nothing like this," he said.
Karthik Bhat — a former UNU-CS research assistant and current Georgia Tech Ph.D. student in Human Centered Computing — said Best nevertheless brought a wealth of crucial experience to the U.N. effort.
"His knowledge of different context, constraints, and his skill in establishing and maintaining professional partnerships with international organizations was very important and useful at UNU-CS," Bhat said. "Working with Mike is rewarding because he has really high standards and he drives you to meet those expectations."
Another UNU-CS staffer, Georgia Tech alumnus Calvin Yu (MS International Affairs, 2006), said Best "has clearly devoted his life to the development of society."
---
Georgia Tech has to stay true to its commitment to crossing social science and liberal arts with engineering and other sciences. It's one of the unique and distinct competencies of the Institute, it's one of Ivan Allen's greatest strengths, and it's one of the United Nations' greatest needs.
---
"Mike is at the cutting edge of ICTs and development," Yu said. "For us, this translates to work that is original and needed. He is familiar with U.N. policy needs, sustainable development goals, and the needs of developing societies."
"Because of Mike's approach, rather than a purely academic practice, all our projects include extensive fieldwork and collaboration with local stakeholders," Yu said. "One underpinning of his background is that of human-centered design, so our goal is to develop solutions for the developing societies."
Peacekeeping and anti-trafficking efforts among projects
One of Best's first projects as director of the U.N. institute was to help co-found the Equals Global Partnership with the U.N.'s International Telecommunications Union and other groups.
That group recently released its first research report (PDF) highlighting the extent of the gender gap in technology and proposing policy changes to help reduce it.
The report finds a complex landscape shaping gender equity issues in the information and communication technologies field, with barriers often related to issues such as infrastructure availability, financial constraints or socio-cultural and institutional contexts.
Best's team also worked with U.N. peacekeeping forces on a project examining their communications technologies. They found peacekeepers, especially women, rarely carry emergency communications gear because of its bulk, and proposed a project to combine four devices into one.
Finally, the group worked with anti-trafficking groups on an app that could improve the ability of first responders to identify and help victims of human trafficking. A language barrier often exists between investigators and trafficked people, Best said, so the app allows workers who may be exploited to answer questions in their own language and ask for help.
Back at Georgia Tech
Best is proud of the work his team did in Macau. But after nearly four years away, he found himself eager to return to Georgia Tech. He decided against pursuing a contract renewal.
Now that he's back, he's working with Ellen Zegura in the School of Computer Science and Carl DiSalvo of the School of Interactive Computing and the School of Literature, Media, and Communication, to incubate a Center for Computing and Society at Georgia Tech. The idea is least partly inspired by Best's time in Macau.
"We're hoping to build a real research initiative, develop some resources and funding around it, and in that sense, bring some of the core intellectual energy that we helped to incubate in China back here to Atlanta."
Much More to Be Done
Among the issues Best expects to continue to work on now that he's back are issues of data justice and fairness, diversity, and the role of information and communication technologies in creating, and in helping solve, conflict.
On the one hand, Best blames the recent U.N.-labeled genocide of Rohingya in Myanmar in part on social media, which allowed the easy spread of hateful messages encouraging the destruction of the minority peoples' villages.
On the other, Best sees enormous promise in the use of communications technologies as part of truth and reconciliation efforts following civil conflicts.
"If you're talking, you can't be shooting," he said.
Best: Georgia Tech Uniquely Suited to Help Solve Global Issues
Best's U.N. experience has given him new insight into Georgia Tech's self-avowed mission to influence "major technological, social, and policy decisions that address critical global challenges."
"There's enormous need for people like us, innovators, engineers, technologists, smart social science and liberal arts scholars," he said.
"Georgia Tech has to stay true to its commitment to crossing social science and liberal arts with engineering and other sciences. It's one of the unique and distinct competencies of the Institute, it's one of Ivan Allen's greatest strengths, and it's one of the United Nations' greatest needs," he said.
"They just need Georgia Tech, frankly," Best said. "And we need them."
Technologies and International Development Lab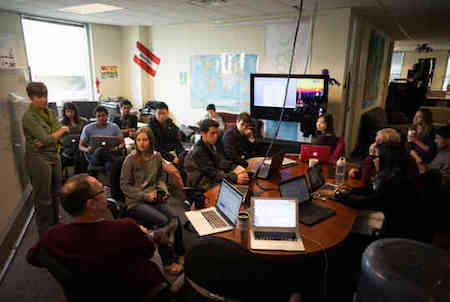 Michael Best is director of the Technologies and International Development Lab, which researches the uses of information and communication technologies (ICTs) in social, economic, and political development.
After his four years away, Best is looking for students interested in helping reboot the lab, which brings liberal arts scholars in social sciences, design, and policy together with computer scientists to "invent new technologies, evaluate existing ones, and research how and why ICTs can serve as a tool to empower, enrich, and interconnect."
Past projects have ranged from work on civil engagement, political development, and elections to peacebuilding through communications systems.