Not Just a Game
Georgia Tech's Sports, Society and Technology Program uses sports to learn and teach about the intertwined influence of athletics, politics, gender, and race.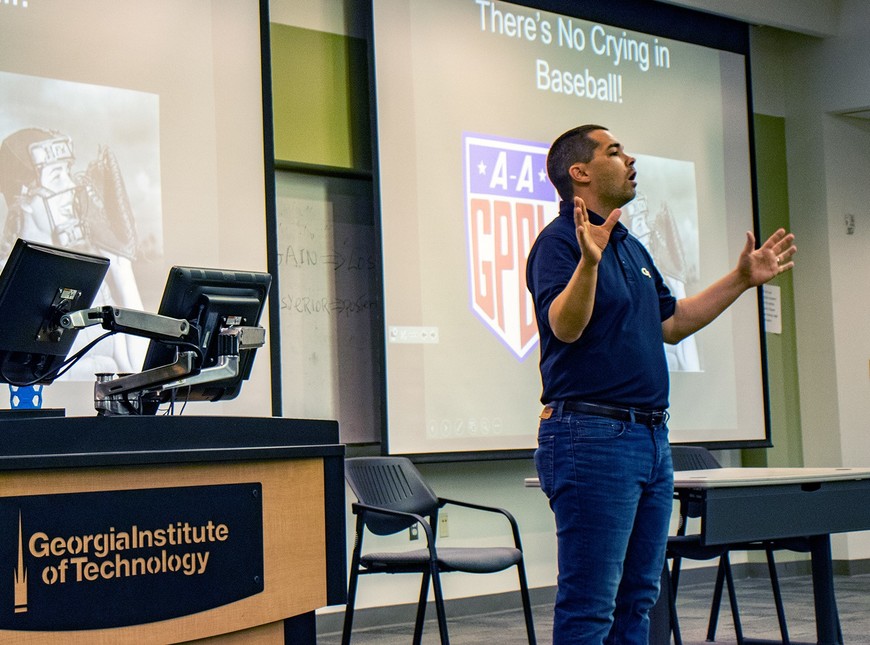 By Michael Pearson
The iconic image of the 1968 Mexico City Olympic Games depicts two African-American men atop the medal stands, their fists raised in protest against racial injustice.
Less well-known is the story of Wyomia Tyus, a groundbreaking African-American athlete at those very same games whose own quiet protest in support of her teammates led to an influential life of advocacy for women in sports, and for racial equality.
Giving life to such stories — and by doing so leading the conversation on race and gender in sports — is one of the roles of the Sports, Society, and Technology program in the School of History and Sociology, a unit of the Ivan Allen College of Liberal Arts.
"We want our students to understand the stories that don't really get coverage but are important American or global stories," said Mary McDonald, the Homer C. Rice Chair in Sports and Society.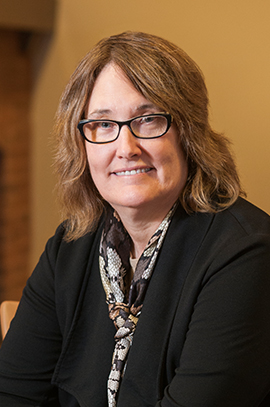 The program recently hosted a conversation with Tyus about her experiences as the first athlete to win back-to-back Olympic gold medals in the 100 meter dash, as an advocate for women in sports, and as a participant in the tumultuous civil rights battles of the 1960s and beyond.
Although it centered on events from half a century ago, the discussion is a relevant one for today, when inflamed passions over the kneeling protests of African-American NFL athletes during the national anthem continue to divide football fans and the country.
"I think it's particularly important today because we see African-American athletes, men and women, who are protesting racism and police brutality and injustice in our current culture," said Johnny Smith, the Julius C. "Bud" Shaw Assistant Professor in Sports, Society, and Technology.
"But this is not new," he said. "There's a long history of protests by African-American athletes and how athletes have used sports to call attention to inequalities and discrimination."
Sports as a Platform for Social Change
For many, sports is simply a matter of balls and strikes, first downs and passing yards, rebounds and field goals. But for scholars such as McDonald and Smith, sports is at least as much a stage on which the nation's political, cultural, and social changes play out.
"It is an enterprise that affects us all in ways that we don't always fathom," Dean Jacqueline Royster said at the Tyus event.
It's possible to trace important historical moments just by looking at sports, Smith said. Take, for instance, the nation's post-World War II "Red Scare."
Amid panic over communism, media, sports, and government leaders helped create an image of athletes as cultural paragons — examples of loyal teammates too busy making themselves and their teams better to succumb to the whispering advances of communist infiltrators, Smith told students during a recent classroom lecture.
At the same time, America's struggle over race began playing out in the nation's sporting venues, beginning with Jackie Robinson breaking baseball's color barrier in 1947. A few decades later, gender issues would come to the fore with the push for equal opportunities for girls and women in sports and other areas of society.
'More Than Just a Game'
Unlike many sports studies program that seek to prepare students for careers in sports management and allied fields, the program — part of the Ivan Allen College of Liberal Arts — is dedicated to examining U.S. history and culture through the lens of sports.
"We're not studying the trivia of sports. I'm not asking students to memorize records," Smith said. "The point is to get students to understand how sports helps us understand American history and American culture."
"So we're examining race, gender, economics, politics. We're looking at religion in sports, globalization," he said. "We're looking at these broader themes that historians and sociologists examine, but we're doing it through the lens of sports."
In partnership with other Georgia Tech schools, the program also examines the technology of sport, with classes in the material science and engineering of sports, and sports science, among others.
In addition to teaching, the program includes a research center that has hosted a symposium on concussions, a discussion of the 1968 Smith and Carlos protests, and other events.
While the program currently offers a minor, McDonald said she hopes someday SST can offer a master's degree, as well.
Morissa Chen, a third-year industrial engineering student, is working towards the minor, and said the classes she has taken have taught her to be "observant and analytical in the realm of sports."
"You start to see that sporting events are more than just a game, they are a representation of cultural phenomena," said Chen.
Today's Protests
That is something Tyus saw firsthand, beginning from her days growing up in Jim Crow Georgia, through finding her way in sports in a world not yet accustomed to female athletes. She has long since put away her sprinter's shoes, but remains an advocate for racial and gender equality, and for athletes standing up for their beliefs.
"Athletes have brains, and they have things they want to see changed," she said. "I just don't see how we can live in this world of ours and not talk about the injustice that goes on. It affects everyone. You can choose not to see it or turn the other way, but that does not mean it's not happening."
In the classroom, Smith said he has been able to have constructive discussions about the issue by approaching it as any Georgia Tech or Ivan Allen College of Liberal Arts scholar would be expected to do — with rigor and focus.
"What we try to do in the classroom is think through the social and political arguments that are being made by those who support the movement and those who are critical of it," he said. "But you have to start with the basic facts of the origins of the protest, and of course that requires understanding the role of Black Lives Matter and how that movement erupted in response to police brutality. African-American athletes then, as now, were responding and trying to be constructive."
"If we don't listen to everyone involved, people are just reacting based on emotionalism," he said.
Wyomia Tyus: Groundbreaking Athlete, Influential Advocate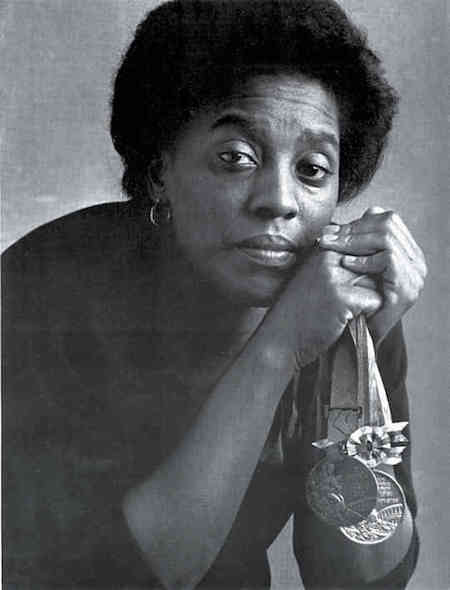 Little known as she may be, Wyomia Tyus was a pathfinder.
Former Georgia Tech football coach Bill Curry, who helped introduce Tyus at her recent Georgia Tech appearance organized by the Sports, Society, and Technology Program, called her "one of the great, great achievers in the history of American sport." Ivan Allen College of Liberal Arts Dean Jacqueline Royster called her "someone I have admired all of my life."
"She was a pioneer in women's athletics, but also an advocate for global human rights at a time of volatility in the 1960s," said Mary McDonald, the Homer C. Rice Chair in Sports and Society.
Tyus was an elite female athlete in an age when few opportunities in sports existed for girls and women. Emerging from the legendary track and field program at historically black Tennessee State University, Tyus won a surprise spot on the 1964 Olympic team and took home her first gold medal in the 100-meter dash.
In 1968, she became the first athlete to win gold in that event in consecutive games. She earned the honor at games initially targeted for boycott by the Olympic Project for Human Rights, but which would eventually become the platform for the iconic protest by U.S. Olympians Tommie Smith and John Carlos.
When they were ejected from the Olympic Village over the protest, Tyus staged a quiet rebellion of her own, donning black shorts instead of the team-issue white ones, for her second gold-medal winning race. She dedicated her win to her teammates.
That support came even though she and other female athletes were, ironically, shut out of the discussions of the male-dominated Olympic Project for Human Rights.
"They just never talked to us. But it didn't deter me, in fact I think it made me a lot stronger," said Tyus.
Tyus is prominently honored as a member of the Georgia Sports Hall of Fame, the National Track and Field Hall of Fame, and the U.S. Olympic Hall of Fame.
She is a founding member of the Women's Sports Foundation created by tennis player Billie Jean King, whose famous "Battle of the Sexes" tennis match with a male player, Bobby Riggs, helped push the issue of gender equity in sports to the forefront of American consciousness.
She has advice for girls and young women, especially athletes, trying to find their purpose.
"The main thing is you have to be happy with yourself. Being a strong woman, there's nothing wrong with that. And if there's a cause you believe in, you should fight for that cause," she said. "People may know you as an athlete for the rest of your life, but you still have more to offer."
SST Minor Aids Student's Career Search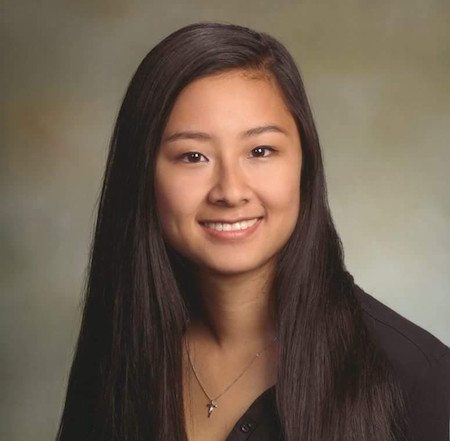 Marissa Chen, a third-year industrial engineering major, began taking Sports, Society, and Technology classes as a way to rekindle her passion for sports, despite not having the athletic chops to compete at the college level.
She said she has been impressed by the interdisciplinary nature of the program.
"The classes I've taken for this minor have covered such a wide range of topics from anti-doping to stadium design to genetics," she said. "Even within each class, the professors I've had thus far have all been extremely collaborative. This to me really stressed the importance of approaching this industry with an interdisciplinary mindset."
She recently completed a 6-month internship with Adidas Global Operations at their sourcing headquarters in Hong Kong.
"Before college, I definitely was not aware of how many options I had to combine something I always saw as a side passion or hobby with my academic studies," Chen said. "This internship was a great integration of my passion for sports and my industrial engineering degree and really proved to me that there are plenty of ways that the two intersect."
"I'm very thankful that Tech offers this unique minor because I would not have thought to venture in this direction in my career search," she said.