Students in Georgia Tech's liberal arts college work at the nexus of 21st century creativity, merging technology and human experience. The College's innovative programs of study immerse students in Tech's world-leading technological ecosystem, providing exceptional interdisciplinary learning that integrates humanities and social sciences with engineering, science, and computing.
Our graduates thrive in the global technical and technological arena
Hire Ivan Allen College of Liberal Arts graduates and you gain team members who think critically and holistically to bridge the technology gap and create a whole new world of possibilities. Both undergraduate and graduate students engage in research and projects working with real problems and challenges of organizations in government, business, and the non-profit world. Browse some of research by our graduate students.
Our students learn to forge innovative and integrated solutions by:
Planning and designing multidisciplinary projects

Thinking critically, ethically, and globally

Interpreting technical ideas for creative and practical use

Researching and analyzing complex data and issues

Applying advanced math and computing skills

Communicating clearly across teams, disciplines, and cultures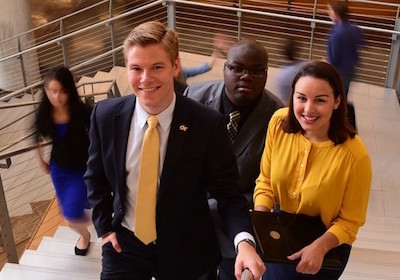 The program was interdisciplinary and also technology focused. It was uniquely designed for exactly the type of 'outside the box' and comparative thinking skills that are essential in business today.
          - JH (B.S. 1995)
The professors didn't just teach theory, but how to think creatively and explain my ideas constructively. Those skills have helped a lot in the big boardroom meetings with clients.
          - DP (M.S. 2010)
Our student statistics speak for themselves:
72% Have internship experience
70% Have worked or studied internationally
1 in 4 Have foreign language skills
Most have put ideas into practice working with business, government, policy, think tanks, non-profits, or social organizations
Most have completed substantial research projects
All are Georgia Tech smart with our renowned drive and work ethic
A sampling of the organizations who've hired our students:
Amazon
Apple
Bank of America
Big Scary Cranium
Boeing
Central Intelligence Agency
Cox Communications
Deloitte Innovation Lab
Delta Airlines
Electronic Arts Inc
Georgia Legislature
Georgia Power Company
Google Interactive
Johnson & Johnson
Intercontinental Hotel Group
King & Spalding
LexisNexis
Maersk Line
Microsoft Corporation
NBC Universal
Social@Ogilvy
Teach for America
The Coca-Cola Company
The Carter Center
Turner Sports
U.S. Supreme Court
World Affairs Council of Atlanta
Let's talk about how best to connect you with our students and programs
Options include:
Career Fairs
Information Meetings
Internships
Interviews
Job Postings
Problem-solving Projects
Research Partnerships
Please direct inquires to HireIvanAllen@iac.gatech.edu
Ivan Allen College Quick Facts
6

Schools

10

B.S. Degrees

14

Masters Degrees

6

Doctoral Degrees
Our Degrees
Applied Languages and Intercultural Studies
Computational Media
Cybersecurity Policy
Digital Media
Economics
Economics and International Affairs
Global Economics and Modern Languages
History, Technology, and Society
History and Sociology of Technology and Science
Human-Computer Interaction
International Affairs
International Affairs and Modern Languages
International Affairs, Science, and Technology
Literature, Media, and Communication
Public Policy
Why Hire Ivan Allen College Graduates?
"Our Graduates are Game Changers" Brochure