Are you interested in undergraduate research opportunities in the Ivan Allen College? Are you curious about how to get involved or what liberal arts research looks like?
This guide to undergraduate research in Ivan Allen College answers all these questions and more.
Keep reading to discover an extensive list of research opportunities in IAC, as well as funding sources, conferences, and advice from undergraduate students in the same place as you. Finally, we'll highlight current undergraduate research projects with students and faculty in each of the six Schools in Ivan Allen College to inspire you to get involved!
This article aims to pull together the most relevant resources from the School, College, Institute and external websites into one place. If there's something you think we should add, please email us at communications@iac.gatech.edu.
Now, let's dive in!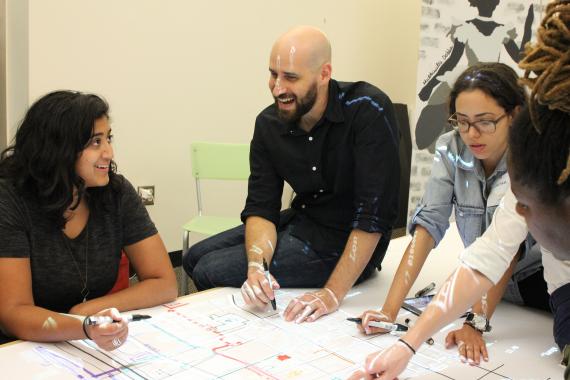 LMC Associate Professor Yanni Loukassis and students explore data around Atlanta through his guided Map Room research. Loukassis encourages students to focus less on the norms and look to the extremes. His research informed his book All Data Are Local which describes data's sense of place.
Undergraduate Research in IAC: An Overview
First, let's begin with some research tips from Jacob Aguirre in the School of Economics. Aguirre is an undergraduate research ambassador and has presented his work on youth and adult e‐cigarette use at the ACC Meeting of the Minds Conference — all on top of completing dual degrees in economics and mathematics in only two years. He writes:
1. What is research?
This is quite a common question to be asked. What is research, and why is it important? Who would ever want to read such a long, boring academic paper? These are some common themes I hear when presenting to classes about opportunities here at Georgia Tech.
Oxford Dictionary defines research as the "systematic investigation or inquiry aimed at contributing to knowledge of a theory, topic, etc., by careful consideration, observation, or study of a subject." In fact, research often isn't ever over, even when you've published a paper on something. It's something that is always continuing and developing.
To some, this can be tedious as it will take a lot of time to reach your goals and determine if a solution even exists to your question. Others — hopefully including you — see this as an exciting and challenging situation. Maybe no one has answered your question before, or perhaps someone has, but you think a different method will lead to more favorable outcomes?
Whether you assist your professor or lead your own project, you'll receive guidance, support, and the benefit of their expertise. Students can also receive funding from many sources. Additionally, many faculty members across academic departments hire students directly to serve as research assistants. The Presidential Undergraduate Research Award (PURA) can provide hourly wages for research work as well.
2. Why do research?
If you're considering graduate school, undergraduate research can be a fantastic way to build your CV and demonstrate to the admissions committee that you're ready for graduate school. Research also allows you to learn to effectively communicate your ideas and how to analyze and critique the work of others. You could have the greatest idea for a paper, but if you can't effectively communicate your research, you have nothing.
Even if you aren't considering graduate school, you should still consider doing undergraduate research. You can create a well-rounded resume showing "hands-on" experience and demonstrate that you know how to produce results and can work well in a team environment. More and more, academic papers are often written with another author or a team. These are all qualities and traits that an employer would love to see.
Further, you'll build a strong working relationship with a faculty mentor and be able to ask for a letter of recommendation when applying for a job. By completing a research course with a professor and developing a project, you have a tangible piece of evidence of your hard work that you can show to potential employers.
3. Opportunities at Georgia Tech
The Undergraduate Research Opportunities Program (UROP) at Georgia Tech offers immense resources and can help you find the research experience you're looking for.
Furthermore, Georgia Tech also has the Undergraduate Research Ambassadors. This is a group of around 30 students from all colleges and majors. They primarily help students interested in getting a first research opportunity and discovering potential openings.
In their list of ten steps to get involved in research, UROP suggests that students should identify four or five faculty members whose interests mirror their own. Stay after class, talk to them! They're likely more than happy to share how they got into their career path and the research they pursue and can share valuable advice with you.
Then, "decide on the time commitment you can make to your research. Determine how many hours per week, weeks per semester, and semesters per year you can dedicate to your project," UROP suggests. A single credit hour of research often relates to around three hours of commitment. So, for a three-credit course, you're expected to commit around nine hours a week. Is this feasible for you? If it isn't, perhaps try another semester. You need to be honest with yourself and how much you're willing to put in.
Also, understand your expectations and those of your faculty mentor. This is extremely important, especially if you'll be doing research for credit! After your first initial semester of work, determine for yourself if you'd like to continue. Perhaps you'd like to try a different lab or a new area of interest.
4. Tips and Tricks
The biggest tip I would give anyone considering research is to talk to students of the professor you're interested in working with. Figure out the atmosphere of the lab.
How well does the professor treat their students? Are the expectations reasonable? You do not want to be doing research with a professor only to find out later that their personality doesn't mesh well with yours.
If you're considering graduate school, you'll likely need a good letter of recommendation. Ask yourself, is this a professor from whom I can probably get a good letter of recommendation? Are they someone who would go to bat for you and is willing to vouch for your research expertise? These are some of the questions you need to consider!