Transformative Urban Leadership Grounded in Courage, Compassion, and Human Justice
During two terms in office from 1962 to 1970, Mayor Ivan Allen Jr. transformed Atlanta from a stagnant, segregated town of the Old South into a burgeoning international city at the forefront of human rights. His road map for rebirth addressed nearly every aspect of a vibrant urban environment — arts, culture, housing, sports, transportation, infrastructure, and commerce. He also provided pivotal leadership advocating the public accommodation for African-Americans. Mayor Allen risked his life challenging Atlanta, the South, and the U.S. Congress to light the path of civil rights "for all the world to see."
The College proudly advances Mayor Allen's legacies of transformative urban leadership and socially and ethically conscious action. Our cross-disciplinary research, teaching, and service enlarge upon the very same realms that were part of his original Forward Atlanta plan and, today, encompass: innovative education, global leadership development, international relations, governance and public policy, community relations, economic development and innovation, urban development and sustainability, arts and entertainment, and sports. We are ever deepening and evolving our understanding of these legacies, their interrelationships, and their ongoing impact. It is our hope that by illuminating Mayor Allen's legacies, Georgia Tech students are inspired to leadership that is grounded in courage, compassion, and human justice.
The Allen Legacies at Georgia Tech
Year(s)
Noteworthy Events

1990

Ivan Allen College is founded with a mission for teaching, research, and service grounded in the values and principles of former Atlanta Mayor Ivan Allen, Jr.

2001-2014

Annual Ivan Allen College Founder's Day celebration is established.

2001-
2010

The Ivan Allen Jr. Prize for Progress and Service is awarded annually in recognition of Georgia luminaries whose life work embodies the Allen legacies. Recipients were: The Honorable Zell Miller, The Honorable Jimmy Carter, nationally syndicated columnist Molly Ivins, The Honorable Sam Nunn, digital game pioneer Will Wright, Atlanta businessman and Civil Rights leader Jesse Hill Jr., conservationists and philanthropists Lessie and Charles Smithgall ('33), entrepreneur and philanthropist Ted Turner, world health expert and humanitarian Helen D. Gayle, and Georgia healthcare leader William J. Todd.

Ivan Allen Jr. History Traveling Exhibit is created. It is curated by the Atlanta History Center and supported by the Georgia Humanities Council and the National Endowment for the Humanities We the People initiative.

K-12 Ivan Allen Jr. History Teacher's Guide is created.

2003-
2012

Ten symposia/research forums are held highlighting the Allen legacies.

2004-present

Ivan Allen Jr. Legacy Awards are established recognizing faculty, students, and alumni who embody the Allen legacies.

2006-
2009

Ivan Allen Jr. Civic Responsibility High School Essay Scholarships ($500 – $1000) are awarded to incoming freshmen.

2010

Expanding upon the College's stewardship of the legacy of Ivan Allen, Jr., a Georgia Tech-wide commitment to the Allen values and principles is espoused.

2011-present

Founder's Day marks the 100th anniversary of Ivan Allen Jr.'s birth

Inaugural Ivan Allen Jr. Prize for Social Courage is presented to The Honorable Sam Nunn. Dr. William H. Foege, a transformational leader in global health policy was honored in 2012; Civil Rights icon John Lewis in 2013; human rights defender Beatrice Mtetwa in 2014. The award is now hosted by Georgia Tech; the College continues to organize the Ivan Allen Prize Symposium.

2012

Ivan Allen Jr. Digital Collection is launched.

50th Anniversary of Ivan Allen Jr.'s inauguration as Mayor of Atlanta is celebrated.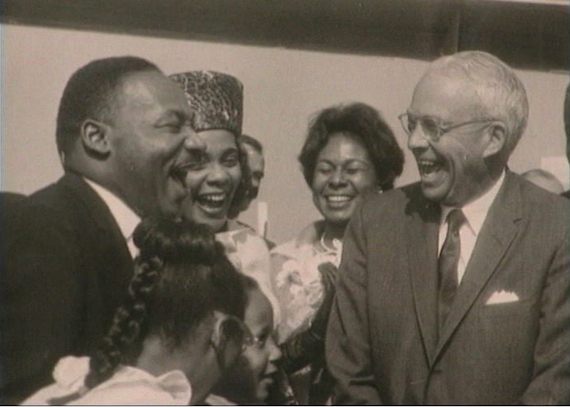 "With unflinching courage, he guided this city through some of its most turbulent waters." - Coretta Scott King