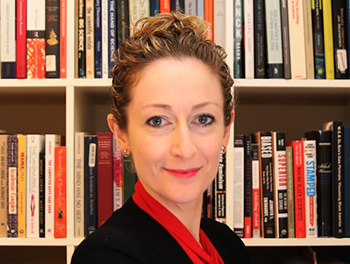 Sugimoto Named Chair of School of Public Policy
Cassidy Sugimoto has been selected to serve as the chair of the School of Public Policy in the Ivan Allen College of Liberal Arts effective June 1, 2021.
Marilyn Brown, Regents' and Brooks Byers Professor of Sustainable Systems, will continue to serve as interim chair until May 31, 2021. Effective immediately, Sugimoto will work closely with Brown to ensure a smooth transition of school leadership.
"I am confident that Dr. Sugimoto will advance the mission and goals of the School and the College as we envision the purpose and potential for humanities and social sciences at a technologically focused institution in the 21st century," said Dean Kaye Husbands Fealing.
Sugimoto is currently a professor of informatics and director of graduate studies in the School of Informatics, Computing, and Engineering at Indiana University Bloomington. Her research expertise is in the domains of science policy, scholarly communication, and scientometrics. She investigates the ways in which knowledge is produced, disseminated, and evaluated, with a particular interest in issues of diversity and inclusion.
More Information
Job Profile
The advisory search committee has developed a job profile comprised of the job description, an overview of the School of Public Policy, and the leadership and administrative management responsibilities for the School Chair position.
Search Timeline
October 31, 2020 — Deadline to submit application materials for optimal consideration
November/December 2020 – Semi-finalist Interviews
January/February 2021 – Finalist Interviews
March/April 2021– Hire Decision
No later than August 2021 – Hire Date
Search Committee
Dean Kaye Husbands Fealing appointed an advisory search committee comprised of faculty, staff, and students in August 2020.
Search Committee Chair: Richard Utz, Professor and Chair, School of Literature, Media, and Communication
Annie Anton, Professor, School of Interactive Computing
Justin Biddle, Associate Professor, School of Public Policy
Lindsey Bullinger, Assistant Professor, School of Public Policy
Brad Fain, Executive Director and Principal Research Scientist, Center for Advanced Communications Policy
Karl Grindal, Doctoral student and Public Policy Graduate Student Association Liaison
Brad Hastings, Interim Director of Development, Ivan Allen College of Liberal Arts
Usha Nair-Reichert, Associate Professor, School of Economics
Juan Rogers, Professor, School of Public Policy
Leslie Ross, Academic Program Manager, School of Public Policy
Chad Slieper, Academic Professional and Director of the Law, Science, and Technology Program, School of Public Policy
Kyle Smith, Undergraduate Student and Executive Vice President, Georgia Tech Student Government Association
Will Jimerson, Director of Human Resources, serves as administrative coordinator for the search process.
Georgia Tech provides equal opportunity to all faculty, staff, students, and all other members of the Georgia Tech community, including applicants for admission and/or employment, contractors, volunteers, and participants in institutional programs, activities, or services. Georgia Tech complies with all applicable laws and regulations governing equal opportunity in the workplace and in educational activities. Georgia Tech prohibits discrimination, including discriminatory harassment, on the basis of race, ethnicity, ancestry, color, religion, sex (including pregnancy), sexual orientation, gender identity, national origin, age, disability, genetics, or veteran status in its programs, activities, employment, and admissions. This prohibition applies to faculty, staff, students, and all other members of the Georgia Tech community, including affiliates, invitees, and guests.