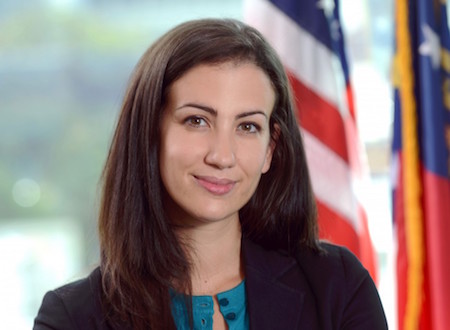 Abby Turano
Degree
M.S. International Affairs 2005
Hometown
Atlanta, Georgia
Career
Chief of Protocol, Georgia Department of Economic Development
Since Graduation
While I was enrolled in Georgia Tech's International Affairs M.S. program I interned in former Gov. Sonny Perdue's communications office and at the Canadian Consulate General. During the spring before I graduated, the governor's office offered me a job in the communications office that seemed like a great opportunity. I wrote proclamations, then became the governor's speechwriter for several years.
I ultimately wanted to do something that was more focused on international affairs, and I landed a "Global Georgia" marketing position with the Department of Economic Development. I love this state, and I liked the idea of marketing Georgia to the world. I was on that marketing team supporting the protocol office for a few years, and then I was hired on as chief of protocol about four years ago. A series of what I saw as outstanding opportunities presented themselves after I first interned with the state government as a graduate student. I didn't ever think I'd be a long-term state government employee, but it's been 11 years now.
Working as Georgia's Chief of Protocol
I am the primary liaison between the Georgia state government and the consular corps. There are roughly 70 countries that have official representation here in Atlanta and work with us. We frequently have high-level delegations visiting, including ambassadors, government officials, and business groups. Our job is to welcome them and help their hosts come up with an agenda that shows off the state's assets and helps them obtain their mission goals. In addition, any time the governor or another high-ranking state official travels internationally, we strategize and plan those trips. Overall, my mission is simply to elevate Georgia's international profile.
Diplomacy in Action
Georgia has welcomed some interesting visitors in the last year or so, including the prime minister of the Netherlands, Mark Rutte, and the minister-president of Flanders, Belgium, Geert Bourgeois. Also, of course, the president of Panama, Juan Carlos Varela, a Georgia Tech graduate! This job has also allowed me to travel all over the world. I've traveled to Japan, China, Korea, the United Arab Emirates, Brazil, quite a few places in Western Europe, and across Canada. We bring Georgia to the rest of the world. In my role as chief of protocol, I work to create the conditions for business or for diplomacy to take place. My office gets the right people in the room and makes sure that everybody feels respected, comfortable, and ready to work.
What the Ivan Allen College Taught Me
I think that my ability to handle this role stems from the demands that Georgia Tech places on its students. The expectations are set high, so students have to be sharp, detail-oriented and comfortable collaborating as part of a team. Another thing that I developed as an Ivan Allen College student was the ability to communicate – particularly through writing – concisely, clearly, and efficiently. Especially when you're working with an international audience or international team, the ability to communicate well is crucial. Each person working on our projects needs to understand their role and the expectations. The ability to develop an understanding of how the big picture of an event or trip will work, and how to communicate this information to everyone involved, was something that I certainly developed in graduate school.
Ivan Allen College Memories
I particularly enjoyed a class about intelligence that was taught by a CIA officer-in-residence. In retrospect it reminds me of my current job because the assignments involved pulling information from diverse sources and boiling it down to the most pertinent and most important details. Other memories from my time at Georgia Tech involve the quality of classroom discussions that were informed by a variety of viewpoints. In my Ivan Allen College classes there were people from the military, retired teachers, a handful of people fresh out of undergrad, and everybody in between. It was the first time that I really heard people with wildly different backgrounds and life experiences civilly debating politics and big issues. I benefited from those discussions so much because when I work with such a diverse international audience I need to make sure that I'm accommodating a lot of different viewpoints.
Living in Atlanta
My husband, who is also a Georgia Tech graduate, and I have a young daughter, so between working full-time and parenting there's not a ton of time for hobbies like there used to be. I love to bike and walk around the city. Now I live in Cabbagetown, and I try to bike to work in Tech Square as much as I can. I really like Atlanta, and recently I've been exploring the city from a new perspective: as parents of a two-year-old, we're now taking a closer look at parks, schools, museums and all the different ways families spend their time experiencing the city. There's a sense of camaraderie that's common among people who have lived here for a long time, and we find it a positive, inspiring place to be.
Advice for Current Students
Take advantage of internships and opportunities in a variety of different fields. Keep your eyes open and your mind open because Georgia Tech offers so many different types of experiences for students. Also, I think it's valuable to seek out viewpoints that are different from your own. Developing an understanding of how diverse backgrounds, cultures, and experiences shape people's views will be beneficial no matter what career path you pursue.