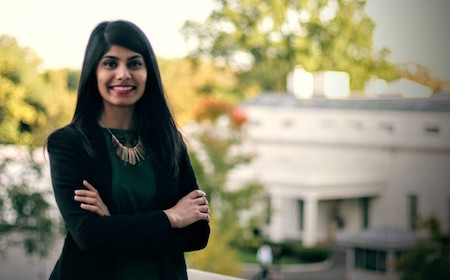 Angeli Patel
Degree
B.S. International Affairs 2014
Career
Assistant to the Deputy Director of Management, The White House
From Georgia Tech to the White House
After I graduated from Georgia Tech in May 2014, I interned at the White House in the Office of Communications. I took it upon myself to learn about the different components of the White House and also to meet as many people as possible. Once the internship ended, I came back to Georgia Tech to pursue my master's degree in international affairs with a focus on cybersecurity. After a semester, I was offered an exciting opportunity at the U.S. Department of Health and Human Services (HHS) in the Office of the Chief Privacy Officer. I took the job without finishing my degree and worked as a policy analyst on how to make health data interoperable across state borders and laws. One day, I was approached by someone who had my resume for an opening at the Office of Management and Budget (OMB) at the White House. After several interviews, I finally was offered a position at OMB as a Presidential Appointee. This experience taught me the value of "soft skills" as well as having a tech background.
Working in the White House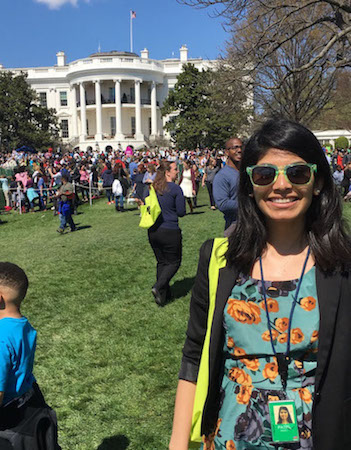 My primary roles were to support the functions of the Deputy Director for Management and manage communications and process for our staff of more than 200 people. I played a similar role as the chief of staff, though my title was Confidential Assistant. My office is charged with many statutory responsibilities. When we were not putting together the federal budget, we were drafting up reports to Congress and the Government Accountability Office. I managed the processes that ushered decision-making from the analyst level to the Deputy Director level with the goal of reducing inefficiencies and getting decisions made with as few bureaucratic challenges as possible. I was also the face for the office when it came to external and internal stakeholder outreach. Whether we collaborated with other offices within the White House, federal agencies, or entities outside of the federal government, I served as the point of contact for anyone that wished to do business with the Deputy Director for Management. Additionally, I took on the lead role for employee engagement to ensure our staff was being considered and provided opportunities to be heard.
Challenges and Rewards
The hours and workload were perhaps the most challenging aspects of my job. It was a full-time job, even on weekends, and everything was urgent. It was definitely a challenge to stay on top of multiple workstreams while also making sure that the right people were involved in the process and that our deadlines were being met. The most rewarding part was walking into the White House every day and realizing that I got to work for President Barack Obama. It was a unique feeling. Also, working with brilliant minds who care so deeply about public service was another rewarding aspect. It was fun and never felt like a job.
Memorable White House Moments
I remember one day when I was walking through the West Wing to make my way over to the East Wing and ran into First Lady Michelle Obama. She smiled and asked me how I was doing. She was on her way to the Oval Office to meet with President Obama, and this happened to be the day after he spoke at the Democratic National Convention. I was awestruck at how she was always interested in what the White House staff was up to and, despite her busy schedule, never let on any frustration. Another cool experience was when I departed the White House and had the opportunity to meet with President Obama and bring my family. We took pictures and shook hands. He has such a remarkable presence and interacts with the people that work for him with sincerity. It was the greatest honor of my life.
What the Ivan Allen College Taught Me
As an international affairs major, I was often asked to write policy memos and position papers. At the time, I didn't think much of it, but I benefited greatly from having those skills. A large part of decision-making is done through policy memos. We draft memos for decision-makers so that they can read the memo quickly, have all of the options and consequences listed, and have all the background necessary for them to make a well-informed decision. Particularly, I remember having to write memos for Esther Jordan's U.S. foreign policy class. That is where I learned about what was necessary to include in a memo. In addition, Peter Brecke's class on empirical methods was also useful. A large part of what I did in the White House was making sure the decisions my office made were data-driven, Dr. Brecke's class provided me with the basic understanding of how empirical data can be used to analyze qualitative events.
Advice for Current Students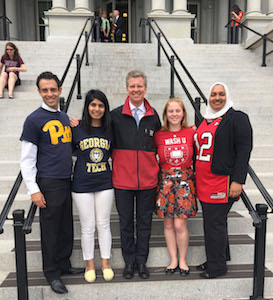 Mentors are valuable. I cannot express enough how important it is to have a mentor in any place you work. I had a mentor in every job and every organization I joined. They opened doors to opportunities that I wouldn't have had the access to on my own. In addition, mentors keep you in check. They challenge you to aim high and guide you in difficult situations. I have greatly benefited from having multiple mentors for the different aspects of my professional and personal life.