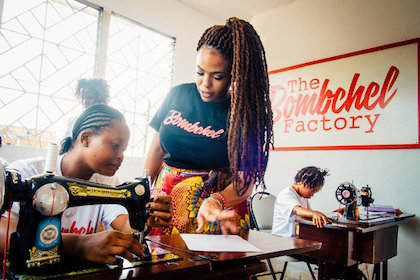 Archel Bernard
Degree
B.S. Science, Technology, and Culture
Career
Founder and President of The Bombchel Factory
When Archel Bernard moved to Monrovia, Liberia—her ancestral homeland which her parents had fled in the 1980s during a brutal civil unrest—she wanted to be the Oprah of West Africa. "I would go to communities and shoot videos of exciting things happening in the city," Bernard says.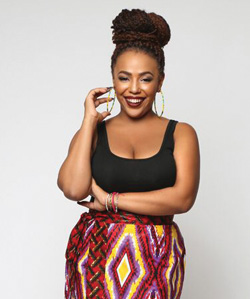 "And, of course, the West African Oprah just had to wear West African clothing." So Bernard would design bold, colorful dresses that combined African fabrics and patterns with U.S. styles and have a local shop make them for her. That is, until she realized that not only was her dressmaker taking far too long with her orders, but also that she had copied Bernard's design and made one for herself and was selling them to other customers.
"At that point, I realized I could figure out a way to design and make my own dresses, and possibly make a profit it from it," Bernard says. "I made eight different styles, found two tailors and paid them a small amount to make my first line. I didn't even know I was creating a line, much less a company. I sold out of everything and used the feedback and money to create more styles." She called her fledgling company Mango Rags, and by scraping up every bit of money she could earn, she opened up a small storefront.
And then the Ebola outbreak happened, and all Bernard had worked so hard for, seemed lost. "People were scared to shop, so my business declined," she says. "I got a ticket back to the U.S., closed the shop and left my employees without knowing when or if I would return."
Bernard spent five months figuring out her next move—but all she could think of was returning to Liberia. She decided not to wait until the epidemic was over.
"Ebola or no ebola, I needed to come back and help my people bounce back," she says. "I knew I could do it with my business." She decided she would help train and employ disadvantaged Liberians.
"As I developed The Bombchel Factory, I wanted to include more people who were struggling to be accepted into Liberian society," Bernard says.
She offered jobs and internships to Ebola survivors, rape survivors and deaf students.
But the Bombchel Factory is not a charity, insists Bernard. It's both a business and an opportunity to lift up Liberian women and give them a trade.
"Ten years from now I want all my trainees to have their own shops and be my competition," she says."I want more women learning to be designers and stylists and believing there are careers in fashion that start at home and can carry them across the world."
A recent Kickstarter crowdfunding campaign has exceeded Bernard's expectations, with her backers able to pre-order a wide range of apparel and jewelry. She expects production on these first orders to begin in May and delivery to start in July.