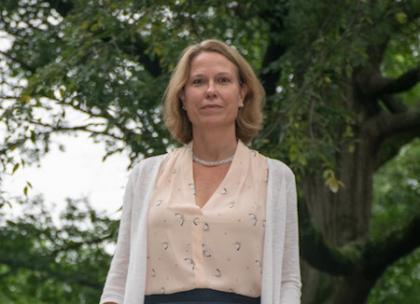 Diane Alleva Cáceres
Degree
Ph.D. International Affairs
A Globe-Spanning Career Leads Diane Alleva Cáceres to the Nunn School
Diane Alleva Cáceres (Ph.D. International Affairs, Science and Technology, 2015) had a chance to start working on her doctorate straight out of college. Instead, she embarked on a career in international trade and investment, building connections all around the world before finally settling in Atlanta and choosing the Sam Nunn School of International Affairs to pursue an advanced degree.
Now, Cáceres is a lecturer at the Nunn School, the CEO of Market Access International—an international trade and investment consulting firm, and the president of World Trade Center Atlanta. On top of that, the longtime elected member of the Council on Foreign Relations recently was awarded an International Affairs Fellowship in Canada by the organization.
When she leaves in September for the 6- to 12-month assignment, she will be based part-time at the Institute for Research on Public Policy in Montreal, and will examine the nexus of science, technology, international trade and investment within the U.S.-Canada relationship. She will regularly return to Atlanta during her appointment.
We recently spoke with her about how her career in international trade and finance led her to the Nunn School.
You are from Washington, D.C. How did you end up in Atlanta?
My husband, Mark, is originally from Argentina, where his father set up Coca-Cola bottling plants. They moved here when Mark was 12. After meeting in Paris and two-and-a-half years of dating long distance, we decided we wanted to be together, and Atlanta seemed the best choice. It worked out for us and for me in so many ways, but not without a lot of courage and creativity in carving out a career here.
What did that career look like?
My career started in Washington, D.C. at the Woodrow Wilson International Center for Scholars' Asia Program. I then moved on to a position at the World Technology Foundation, where we worked on environmental policies and technologies. Next, a wonderful position at the Australian Trade Commission came along. I worked with Australian companies that wanted to bid on contracts financed by the World Bank and the United Nations Development Program. I was able to work at the nexus of the public and private sectors and developing and industrialized economies. From there, I had the opportunity to spend a year at Sciences Po in Paris, followed by a job with the U.S. Agency for International Development's Center for Trade and Investment Services covering North Africa and the Middle East. After moving to Atlanta, I began working for the State of Georgia to train and connect businesses with potential joint venture partners in Europe. Working for the state helped me realize that I could start l my own consulting practice and create the flexibility I wanted to be able to work with a range of government and private sector clients. Looking back on it now, 21 years later, it was high risk, but high reward. I am doing things in Atlanta that would have taken me years to do in D.C., if at all.
When you decided to finally tackle a Ph.D., why did you choose the Nunn School and the Ivan Allen College of Liberal Arts?
I didn't want a traditional political science degree. I wanted it to help me make sense of my work, but also delve more deeply into some interdisciplinary questions. I looked at the London School of Economics, I considered Oxford, but when I read through the international affairs Ph.D. in the Nunn School, everything was there: the flexibility, the interdisciplinary nature, not a sole focus on producing tenure-track faculty, although that's a terrific goal.
How did your life experiences set you apart from your fellow students, and how did they prepare you for your Ph.D. work?
Having worked for 20 years, the experience of building a body of knowledge and skills, paying attention to nuances, learning how to interact with colleagues, and having to learn from mistakes all prepared me in ways that my younger colleagues sometimes struggled with. Having said this, I learned so much from them. They came in with a digital skill set and quantitative background that I did not have, but had to re-learn or learn from scratch. Somehow, the Ph.D. program democratizes the learning process, creating a sense of equality and inclusion among students with different backgrounds.
Why would you recommend the Nunn School and Ivan Allen College?
If you really want to dig deep and have that opportunity to develop intellectually, then this is a great program because of its flexibility and interdisciplinary nature. When you've been out in the world working, one of the major lessons you learn is that just about every question and every challenge requires an interdisciplinary solution. That is where the Nunn School and Ivan Allen College excel.
What will you be working on in Canada?
The bilateral trade and investment relationship between the United States and Canada is the largest in the world. Yet, scholars, practitioners and the media on both sides of the border pay more attention to trade tariffs than they do the science and technology innovation strategies underpinning this dynamic. I plan to examine social learning mechanisms and innovation ecosystems in Canada and the U.S. and how they connect across borders. Part of this examination will uncover how the Canadian federal and provincial governments, firms, research institutes and other stakeholders interact to develop a national innovation strategy, which is so essential for economic growth.
What is next for your career?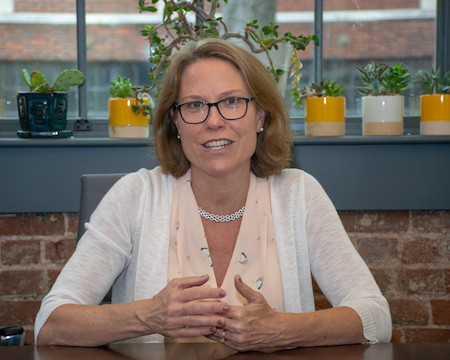 I am considering a few options. I would like to do more research, teaching, and collaborative projects in the Nunn School, or at other institutions, along with consulting projects in which I can involve students. An interesting challenge is how to translate scholarly research into strategies that help solve real world problems, and, ensure that practitioner knowledge informs theory development and other scholarly endeavors. I want to continue to more deeply operate at this nexus. I am also considering opportunities to serve in higher-impact international trade, investment and innovation policy/strategy positions in Washington, D.C. or possibly serving/representing the U.S. overseas.
I worked for 10 years in Washington, D.C. Returning after over 20 years in Atlanta would provide for some fresh interpretations of the challenges we face and ways to manage them. At the moment, I'm leaning towards the first option, depending upon the opportunities. But over time, I may be fortunate enough to have both experiences. I suppose, at the end of the day, I enjoy being challenged, having opportunities to learn, create, lead, and collaborate with talented individuals.