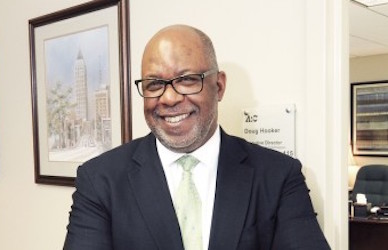 Douglas Hooker
Degree
Masters in Technology and Science Policy
Career
Executive Director of the Atlanta Regional Commission
An Interdisciplinary Approach to Regional Challenges
Douglas Hooker, an alumnus of the Ivan Allen College of Liberal Arts, is no stranger to an interdisciplinary approach. With a bachelor's in mechanical engineering, an MBA from Emory University, and a master's in technology and science policy from Georgia Tech, he is ideally situated as the executive director of the Atlanta Regional Commission (ARC).
Hooker oversees a range of planning issues for the official planning organization for the 10-county metropolitan Atlanta area, including transportation, community development, land use, aging services, workforce development, and water and natural resources.
Advocating an Interdisciplinary Approach
Effective long-term solutions rely on interdisciplinary approaches in the realm of community planning, as technology now intersects with public policy in virtually every aspect of the process. Douglas Hooker notes that an interdisciplinary education like the one he received is a valuable asset in this and mostly any other career.
"It's important to address a problem or opportunity with people who have 'rounded' abilities, who can understand a situation from multiple perspectives, not just one perspective," he explains. "In the university setting, whether it's inside a classroom or outside a classroom, giving students the opportunity to learn about different aspects of their own discipline or other peoples' disciplines will help shape and inform their perspective as professionals."
Hooker promotes an interdisciplinary mindset within the ARC that stems from the life experiences and interests of its own employees. While workers may be hired for one job in particular, they also bring a slew of other skill sets and perspectives that may add value to the workplace.
"We encourage all our employees to offer their full selves, including the things that turn them on and things they like to do as hobbies or their social relationships," said Hooker. "We want them to bring as much of that as possible into the workplace and apply it to helping their colleagues with different problems.
Atlanta's Unique Challenges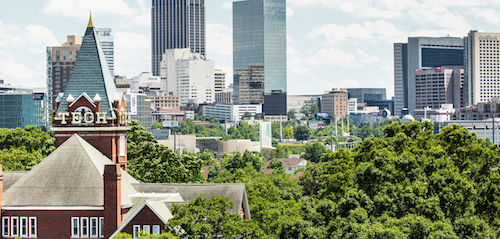 Up until about the early 1980s, community planning was largely the realm of specialists. However, as development-related issues have grown in number, scope, and complexity, the planning process has evolved to include a broader mix of community stakeholders.
"We don't want to leave [issues like] transportation problems purely to so-called transportation experts," says Hooker. "They have a lot to add technically, of course, but there's also a lot of insight to be gained from listening to people who have to catch a bus to go to work every day or 20-year-olds who don't even own a car."
In addition to challenges with public transportation, metro Atlanta faces a unique set of challenges including preservation of the area's signature tree canopy in the face of a growing population. The "city in a forest" features a tree coverage percentage at 36%, well above the national average of 27%. Additional challenges for the city also include finding ways to shape the community social and economic infrastructure so that all citizens have a fair shot at life, an overarching and long-term goal that Hooker believes may be facilitated by his vision for a truly integrated regional public transit system.
"We grew up in a time that was shaped by the automobile and relatively cheap gasoline, but the future of our region as a competitive place on the international stage will depend upon our ability to recognize that more compact living is going to be the way forward over the next 30 or 50 years," said Hooker. "In order for that to happen, we need more options for people to get out of their cars or not have to depend on cars at all. That's one of my hopes for us as a maturing regional community."
The Musicality of Human Experience
In addition to his efforts in development and planning, Hooker is an accomplished musician and oboist for the Metropolitan Atlanta Community Band, a nonprofit organization that brings together amateur and professional musicians from all walks of life. Founded in 1996, the group produces a number of free performances throughout the year that feature a range of genres, including contemporary, jazz, spiritual, patriotic, and Christmas music.
The traditional wind ensemble has played at a number of community centers, including the Rialto Center for the Performing Arts, Spelman College, Morehouse College, and various schools, churches, senior centers, and holiday celebrations.
Hooker draws a parallel between his experiences in work and music, noting that bringing people together to tackle regional development issues is in many ways similar to performing a musical piece.
"Each type of musical instrument — saxophone, clarinet, flute, or trumpet — has its own voice, its own timbre and color. Even when they're playing the same note at the same frequency, it doesn't sound the same, because each instrument has a slightly different way of interpreting that note."
"I think the human experience is a lot like that too. Certainly for us, as planners and social workers, with the kinds of complex and rich problems that we work with on behalf of the community…it's important to have people from a lot of different perspectives lend their voices toward finding solutions. When it works together, it works really well, like a good musical ensemble."