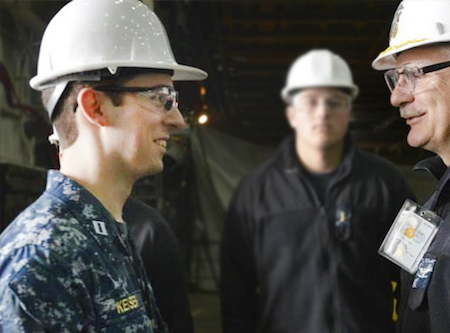 Eric Keiser
Degree
B.S. International Affairs 2009
Career
Surface Warfare Officer (Lieutenant), United States Navy
Surface Warfare Officers lead personnel aboard Navy vessels and manage shipboard engineering and weapons systems. They are responsible for the safe navigation and tactical employment of ships at sea. Surface Warfare missions include: support to expeditionary forces; theater air defense; anti-submarine operations; humanitarian assistance; and disaster relief.
---
Since Graduation
I moved to Norfolk, Virginia, after graduation to report to the USS San Antonio (LPD-17). As the combat information center officer, I directed the San Antonio's sensors to support the ship's operations and monitored our operating environment. In 2010, I participated in Joint Warrior, an exercise hosted by the Royal Navy to improve NATO allies' ability to operate together. I deployed in 2011 with the cruiser, USS Leyte Gulf (CG-55), where I attained my professional certification as a surface warfare officer. The USS Leyte Gulf served as air defense commander for the USS Enterprise (CVN-65) Carrier Strike Group and supported anti-piracy operations in the Red Sea.
In 2012, I graduated from the Navy's navigation school and reported back to the USS San Antonio as the ship's navigator. As navigator, I planned and executed the ship's movements and kept her safe from other vessels and underwater hazards. I directed voyages totaling over 50,000 nautical miles, including an eight-month deployment that included three multinational exercises and support to U.S. 5th Fleet, U.S. 6th Fleet, and U.S. Africa Command. I am currently stationed in Seattle, Washington, as an officer programs recruiter, where I am responsible for four offices in the Greater Seattle Area.
Providing Disaster Relief after Hurricane Sandy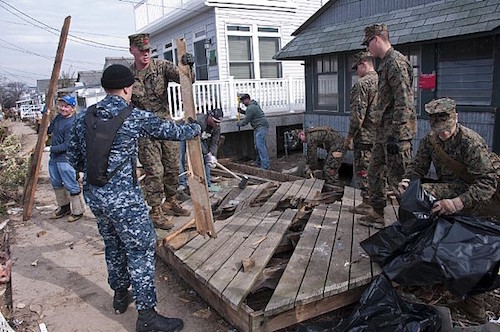 In October 2012, my ship was one of three amphibious vessels that provided disaster relief to the northeastern United States after Hurricane Sandy. The day after the storm passed Virginia, we loaded hundreds of Navy Seabees (construction battalion members), doctors, Marines, and thousands of pounds of supplies. We arrived off the coast of my childhood home of Monmouth County, New Jersey, and immediately began assisting with relief efforts.
Our helicopters surveyed damage for emergency services, and we delivered supplies throughout the New York area. Our construction battalions rebuilt a Coast Guard station that had been completely destroyed. We acted as host ship for a U.S. Coast Guard law enforcement detachment, allowing them to resume inspections of merchant vessels and quickly reopen the port of New York to commercial traffic.
Engineers from the San Antonio pumped water out of hundreds of basements and helped people reclaim their homes. Our engineers dewatered the Statue of Liberty as first responders, allowing her to restore her beacon on November 9. As a native of the New York Area, it was moving to be able to help my neighbors rebuild, and I am extremely proud that my ship was among the first responders on station after the storm.
Navigating the Suez Canal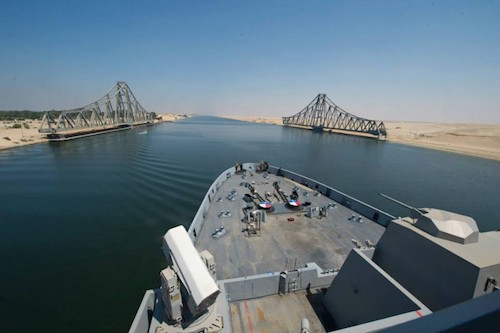 My ship's 2013 deployment required months of planning. I led a small team of six in planning an eight-month voyage of over 30,000 nautical miles. We prepared hundreds of digital and paper charts, compiled a voyage plan, and conducted nearly 100 briefings as the plan evolved over deployment. Whenever the ship's mission changed, my team was the first group that people looked to for guidance. It was a great feeling to pass through the Suez Canal with desert 25 feet to each side of the ship, knowing that my preparation kept the ship and her 1,000 embarked sailors and marines safe.
Learning Technical Fluency
One of the chief challenges of my job is a requirement to be knowledgeable about a huge variety of subjects. I would not have achieved my professional certifications in engineering or combat systems as quickly or as easily without the strong focus on technical fluency at the Nunn School. My international affairs training made me the go-to officer for collaborating and coordinating with officers from foreign navies.
My education prepared me to understand my ship technically, and it also equipped me to understand the strategic and political motivators for our assignments. Nearly every problem the military is asked to solve in today's environment is complex; I was prepared from the day of my commissioning thanks to the numerous interdisciplinary and project-oriented classes I took at the Ivan Allen College.
Advice for Students
Students at the Ivan Allen College are spoiled with a bewildering number of opportunities for academic and personal development. Try to have a good idea of where you want to be in four or eight years, identify what's required to get there, and don't stop aggressively working to meet those requirements! While at Georgia Tech, you can learn a language, work in interdisciplinary teams, lead projects, and conduct your own research. There really is no limit on what you can achieve.
The support and quality of instruction at the Ivan Allen College are the best available at Georgia Tech. (Or anywhere else, for that matter!)
It was a challenge to complete my degree in four years while meeting all of my Naval ROTC requirements. The support and quality of instruction at the Ivan Allen College are the best available at Georgia Tech. (Or anywhere else, for that matter!) Thank you to all of the faculty and staff that helped me to realize my dream and commission as a Naval Officer; I couldn't have done it without you!
Hobbies
I enjoy exploring Seattle and its surroundings. Seattle has many neighborhoods with great food and diverse cultural events, and I am spoiled by the plethora of great hikes that are an easy drive from the city. I'd also like to begin working towards my master's soon. Once the weather cools down, I am looking forward to spending all my weekends skiing!
I am also still connected with graduates from Georgia Tech in a professional capacity. Georgia Tech's NROTC program graduates surface warfare officers, submarine officers, pilots, and marine officers, and I've worked with alumni from Tech in each of my assignments.