Sara Dada
Degree
B.S. Public Policy 2017
Hometown
Marietta, Georgia
Career
Fulbright Scholar, The Royal Veterinary College in London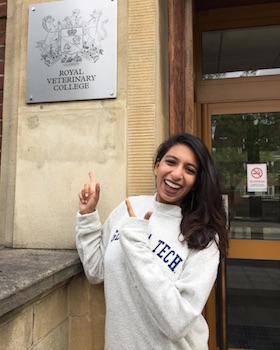 Sara Dada hails from Marietta, Georgia, and currently serves as a Fulbright Scholar at the Royal Veterinary College in London, United Kingdom. She earned a Bachelor of Science in Public Policy from the Georgia Tech School of Public Policy in the Ivan Allen College of Liberal Arts in 2017. She is passionate about global health. We spoke with Sara about her career and perspectives.
Fulbright Experience
The biggest adjustment has definitely been the differences in education systems between the United States and the United Kingdom. There have been many times in class and studying where I was not sure if the challenges I'm facing are because of the transition from undergraduate to postgraduate study, the switch from liberal arts to science, or the difference between studying in the United States and the United Kingdom. The structure of classes and "modules," having different lecturers every day, and grading systems are all far more different than I expected them to be. It has definitely taken some time to orient myself and understand what it means to be successful here.
What the Ivan Allen College Taught Me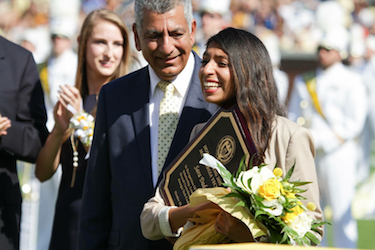 My experiences in the Ivan Allen College have had a huge influence on the trajectory I have taken and the path that has led me to a Fulbright in London. I think one of the best parts about studying liberal arts at Georgia Tech is that we take advantage of the STEM strengths of the Institute as well. This medley has prepared me well for pursuing interdisciplinary work, which I think is the best way to tackle global challenges today.
Interests and Hobbies
Right now it feels like I am never not working or studying, but on the occasions that I do have to indulge in some hobbies I love
reading and traveling to new places. I have had an incredible time exploring London, mostly in search of coffee shops to study in, but sometimes also just walking around this amazing city in the surprisingly pleasant weather.
Future Endeavors
I have become introduced to and aware of so many different paths and opportunities to pursue. Ten years from now I could have completed a Ph.D. and begun post-doctorate research. Or I could be working as a policy manager for an NGO. It is also possible that I could be planning disease outbreak responses at the Centers for Disease Control and Prevention (CDC).
Advice for Current Students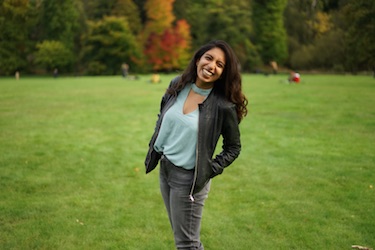 Do not shy away from supplementing your academics in Ivan Allen by taking advantage of other classes and expertise at Georgia Tech. If you're interested in sustainability, take some environmental or civil engineering classes. If you're interested in health, take some biology classes. Ivan Allen students have a great opportunity to pursue an interdisciplinary education and gain some of the knowledge and expertise that other liberal arts students might not. Taking it one step further, Georgia Tech promotes and encourages experiences like studying abroad, researching, and pursuing internships so definitely take advantage of those programs as well.