Faculty in the Ivan Allen College of Liberal Arts participate as keynote speakers, presenters, and hosts for national and international conferences in academia, business, government, and nonprofit realms. Please check our event calendar for upcoming conferences hosted within the College.
Biennial Conferences Hosted within the College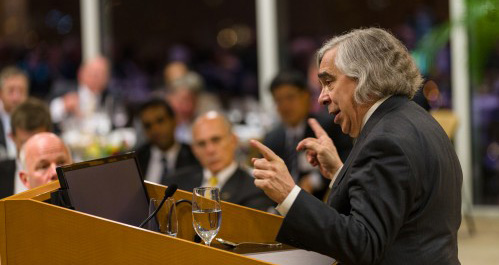 2014 Sam Nunn Bank of America Policy Forum keynoted by U.S. Secretary of Energy Ernest Moniz
Speaker Series
The Ivan Allen College of Liberal Arts and its schools offer a robust schedule of lectures, seminars, workshops, and conferences throughout the academic year. These dialogues reflect and engender a vibrant interdisciplinary intellectual community within the College and Georgia Tech. Most are free and open to all Georgia Tech students, faculty, and staff, and the general public as space permits.
This page highlights regular series. Please browse our event calendar for additional speakers, lectures, and activities. Check the host unit's website or the college event calendar for details.
Explore These Series
More Events Across the College
The College and its schools and centers host more than 100 events each year. Please view our calendar to see what is coming up. Note that new events are scheduled throughout the Fall and Spring semesters so check the calendar regularly.