The Dean's Appreciation Award signals the importance of teaching, research, and service in the Ivan Allen College of Liberal Arts and the value of an educational experience informed by the ideals of Mayor Ivan Allen Jr. The award honors individuals associated with the College who have made extraordinary contributions to its advancement, reputation, and mission. Recipients of the award, through their affiliation, work, or witness, have become notable members of the Ivan Allen College community. Honorees are selected by the dean of the College.
2023 Recipient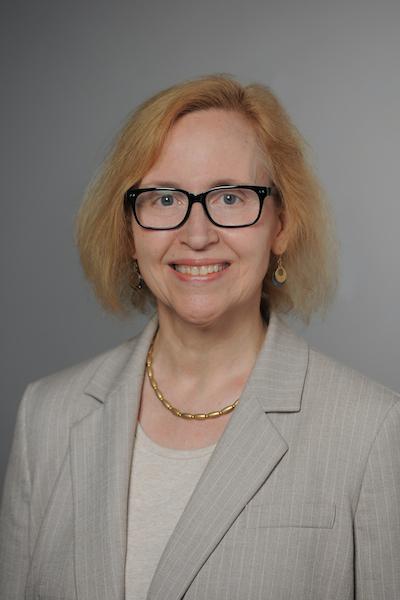 Roberta M. Berry 
Associate Professor of Public Policy at Georgia Tech
Roberta M. Berry's research focuses on bioethics, health law and policy, and the legal, ethical, and policy implications of bioscience and biotechnology research and innovation. A secondary research focus is pedagogical approaches to cultivating complex problem-solving skills. She has taught undergraduate and graduate courses that span these research areas, including graduate courses that enroll Georgia Tech graduate students and Georgia State law students. Berry is currently serving as the director of the Georgia Tech Honors Program.
Berry's publications include two books, The Ethics of Genetic Engineering and A Health Law Reader: An Interdisciplinary Approach. She has authored a number of articles and book chapters, including the award-winning, co-authored article "The Absent Professor: Why We Don't Teach Research Ethics and What to Do about It" (Johnson Institute for Responsible Leadership) and "The Human Genome Project and the End of Insurance" (reprinted in National Insurance Law Review, A Compilation of Significant Articles on Insurance).
Berry was principal investigator for a National Science Foundation grant focusing on ethically contentious issues in bioscience and biotechnology and multidisciplinary, active-learning pedagogy to cultivate the capacity of future professionals to address these issues. She is a member of the editorial board of HealthCare Ethics Committee Forum and has served on National Science Foundation Advisory Panels and Site Visit Teams. She has also served as an external reviewer for Cambridge University Press, Aspen Publishers (legal), the National Science Foundation, the Wellcome Trust (U.K.), and several journals.
Her recognitions include: Class of 1940 W. Howard Ector Outstanding Teacher Award (Georgia Tech 2005); Ivan Allen Jr. Faculty Legacy Award (Ivan Allen College of Liberal Arts 2004); and Outstanding Faculty Member (Student Government Association 2001).
2022 Recipient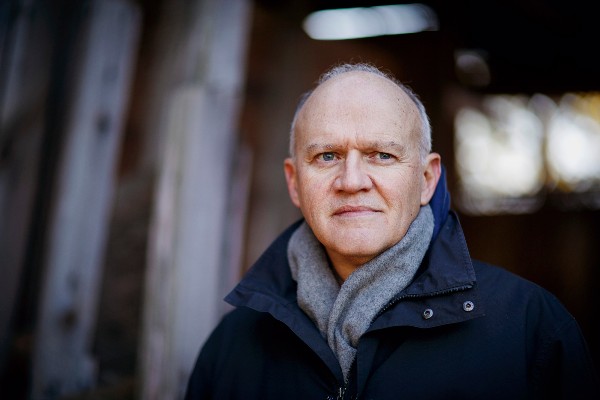 James Langford
James Langford is a successful entrepreneur, corporate executive, and nonprofit leader who has championed environmental causes for decades. Building on a career that has spanned six decades and two continents, Langford applies his deep experience to develop environmental and other nonprofits.
After graduating from the University of Georgia in 1974, Langford worked as an executive at Coca-Cola and co-founded or served in senior positions for five high-tech and consulting companies.
Langford's work, particularly in the nonprofit sector, demonstrates a strong commitment to helping conserve greenspace, revitalize public land, and protect history.
From 2004 to 2007, he served as the Georgia state director of the Trust for Public Land. Later, as principal creator of Atlanta's "connected park system," he played a key role in making the Atlanta BeltLine a reality.
Langford has served on 11 statewide commissions and boards, including the Georgia Board of Natural Resources and the Georgia Humanities Council. Langford also is a trained archaeologist who founded the Coosawattee Foundation, which works to preserve Georgia's archaeological sites and environmentally sensitive areas. And he was the primary author of the Georgia laws that protect archeological sites and regulate the treatment and preservation of human remains.
He is the founder and board chair of the Georgia Prevention Project, which focuses on drug abuse prevention in teenagers and young adults.
Langford's involvement with the Ivan Allen College dates to 2003 when he became an advisor and confidant to Poetry@Tech founder Thomas Lux and Academic Professional Travis Denton, where his business acumen and wise counsel have proven invaluable. He joined the Ivan Allen College Advisory Board in 2018, where he has continued a track record of using his insights, curiosity, and contacts in service to the College.
In addition to an undergraduate degree in journalism from UGA, Langford also earned an MBA from Harvard Business School.
2021 Recipient
Richard Burr Inman, Jr.
Ironwood VII
Richard B. Inman, Jr. is the managing principal and founder of Ironwood VII in Atlanta, Georgia. Ironwood specializes in the development and financing of public/private partnerships, infrastructure, affordable housing and traditional real estate projects. It has particular expertise in developing in challenging locations. Over the past 10 years, the firm has focused in the Pacific and has developed and invested over $400 million in a 50 Mega watt power plant, 4 schools and 575 affordable housing units on the islands of Guam and Saipan.  Ironwood also makes selected private equity investments.
Inman started his business career on Wall Street as an investment banker with Citibank and White Weld and Company, later moving to Atlanta. He acquired and sold two food companies for his own account. He served as Chief Executive Officer of Tucker Federal Bank where he guided its growth from $250 million to $1.2 billion in assets along with a 400% increase in stock price.
He earned a Bachelor of Science in Economics from Georgia Tech and a Masters in Business Administration from Stanford University.  While at Georgia Tech he was elected to Anak and ODK, played on the Tech Soccer club and was a member of ATO social fraternity.
Inman is active in the community.  He serves as a Trustee of the Georgia Tech Foundation, Chairman of the Board of Directors of Guam Education Financing Foundation and Chairman of the Board of Advisors for the Georgia Tech School of Economics. He is a founder of La Societe des Tetes Grande and previously he has served as President of Christmas in April (Gwinnett), Chairman of the Board of Directors of the Georgia State Soccer Association, President of Cathedral Towers and on the boards of Emory-Northlake Hospital and Top Hat Soccer Club. He is a member of The Cathedral of Saint Philip, Capital City Club in Atlanta and Ocean Forest Golf Club in Sea Island.
2020 Recipient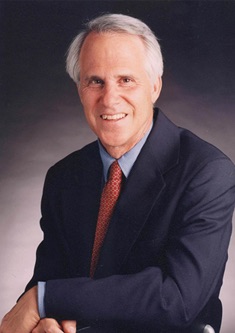 Philip P. Bolton
Global Atlanta
Philip P. Bolton is the founder and publisher of Global Atlanta, which for more than 25 years has served as the source for international business news covered from a Georgia perspective. Bolton grew up in Cleveland, Ohio and Paris, France. After earning a B.A. from Williams College, he served as a Peace Corps volunteer in Kenya, East Africa during 1968 - 69. His career in journalism includes roles as a reporter for the Macon Telegraph, bureau chief in Milledgeville, as editor and associate publisher based in Atlanta for a banking publication for Communication Channels Inc., and as Paris correspondent for the publishing arm of the Lafferty Group, an international provider of financial information. In 1991, he founded Agio Press Inc. which evolved into Global Atlanta. He has served on many boards of bi-national chambers of commerce and affiliated organizations throughout the Southeast and has been widely honored for his contributions to Atlanta's international profile with awards ranging from the Georgia Governor's International Award in 2006 to honors by the Metro Atlanta Chamber and the Georgia Department of Economic Development in 2017. Bolton is now publisher emeritus, but remains involved with writing and archiving. He and his wife Vicki N. Bolton, also an associate of Global Atlanta, reside in Atlanta.
2019 Recipients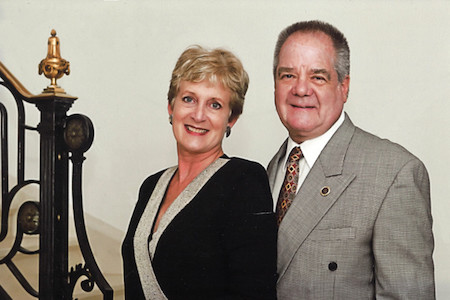 L. Reed Catlett
Reed is an Atlanta native and takes opportunity to share the city with others. Her liberal arts degree in Biology found her at the leading edge of clinical applications in the biomedical field. Early retirement has given Reed a chance to volunteer for all the Atlanta based sporting events, from the Olympics, to Super Bowls, the LPGA and PGA. Philanthropy started in 2002 when she and John Stern took on the next generation of the Popsicle legacy.
John M. Stern
Member of Ivan Allen College Advisory Board
John Stern is the owner of Methods Work-shop, LLC. He has also worked for RCG Productivity Services Inc., Cheltex Inc., DHJ Industries Inc., Phillips Van Heusen, and the Ford Motor Company. He serves on the boards of the Sewn Products Equipment As-sociation of the Americas (SPESA) and the American Apparel & Footwear Association. He was an inaugural member of the Ivan Allen College of Liberal Arts Development Council (now the Advisory Board) founded in 2000. He holds a B.S. in Industrial Engineering from Lafayette College.
2018 Recipients
Barry L. Spurlock
Biomechanical Engineering 1965
Barry Spurlock is founder and president of Spurlock & Associates, Inc. consulting engineers in Atlanta. He graduated from Georgia Tech in 1965 with a degree in biomechanical engineering, then worked with Robert A. Ruff in Columbus, Georgia. After earning his registration as Professional Engineer in Georgia in 1969, he founded his company in Atlanta. His love of Mercedes-Benz cars led him to take German lessons at the Goethe Institute from Georgia Tech Professor Bettina Cothran, with whom he still studies. The association led to the Spurlocks' philanthropy supporting the School of Modern Languages German Program. Spurlock is president and chairman of the board of the Goethe Institute Atlanta and treasurer and council member of the German Church. In 2009, he became a Knight in the Order of Saint John of the Hospital of Jerusalem, a German chivalric order formed in 1096 during the Crusades. In 2017, the president of Germany presented Spurlock the Order of Merit First Class, Germany's highest civilian honor.
Gail Rudesal Spurlock
Gail Rudesal married Barry Spurlock in 1964 while he was a student at Georgia Tech. She attended the Atlanta Art Institute, and then worked at The Atlanta Journal-Constitution. She became a stay-at-home mother and raised two children, Barry L. "Lee" Spurlock II and Jessica Montee Spurlock. In 1993, she began work as an interior decorator. She served for 17 years on the Atlanta Symphony Decorators Showhouse Committee including roles as design chair, co-chair, and chair. The Showhouse raised as much as half a million dollars annually for the symphony. After the Spurlocks moved to Ansley Park, she served on the Ansley Park Tour of Homes Committee and as president for two years of the Ansley Park Garden Club.
2017 Recipients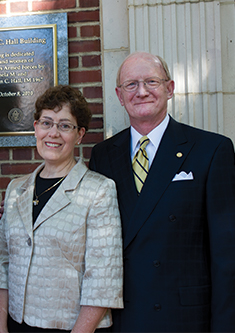 Colonel Stephen C. Hall
(USAF retired) Industrial Management 1967
Member of Ivan Allen College Advisory Board
Col. Stephen C. Hall (USAF retired) served 26 years in the Air Force as an aircraft maintenance and logistics officer in assignments ranging from Iceland to Germany to Japan, maintaining many types of aircraft, including his favorite, the B-52. Hall received his Master's in Management from Troy State University in 1976, and is a graduate of Squadron Officers' School, the Air Command and Staff College, and the Industrial College of the Armed Forces. He has been published twice in Air Force periodicals and has been quoted by the Secretary of the Air Force. Hall recently retired as senior fellow at L-3 Communications Systems-West (CS-W) in Salt Lake City, Utah. He created and managed the company's first repair depot for high-tech electronic components, supporting platforms such as Global Hawk and Predator which are deployed around the world. He created and executed the CADRE training program at CS-W for exceptional performers who ranged in experience from relative new hires to senior managers. The CADRE cachet is "We possess an ethical imperative to help those who follow us avoid the mistakes we made and to prosper more." Hall lectures on World War II history at Georgia Tech, Morehouse College, the University of Utah, and for civic audiences in the Salt Lake Valley.
Pamela Mae Rigby Hall
Pamela Mae Rigby Hall graduated in 1970 from the University of Northern Colorado with a B.A. in Elementary Education. She managed office operations in Department of Defense schools. She volunteers with numerous organizations including the University of Utah Osher Lifelong Learning Institute and the Ogden Symphony Ballet Association. The Halls reside in Ogden, Utah, and have been married for 46 years. They share a commitment to helping young people, and support Georgia Tech students through philanthropy, mentoring, and teaching.
2016 Recipient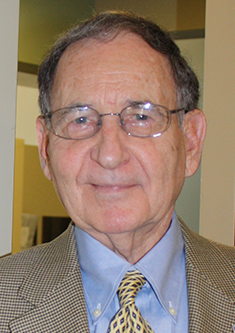 Homer Rice
Legendary Football Coach and Former Georgia Tech Athletic Director
Homer C. Rice is a former football coach and athletics administrator who made an enduring mark on college athletics. In a career filled with countless accomplishments, Rice shaped the game of football, as well as the lives of student-athletes.
Whether it was formulating his famed Triple Option Offense — the dominant offensive concept in football in the 1960s — or his Total Person Concept of the 1980s which is the model for today's NCAA Life Skills Program that is in place at universities throughout the nation, or his on-going engagement as the author of seven books, a teacher, and philanthropist, Homer Rice is a respected leader, builder, and master motivator.
Rice was athletic director at the University of North Carolina at Chapel Hill and Rice University, and a head coach for Kentucky, Oklahoma, Cincinnati, Rice, and the National Football League Cincinnati Bengals. As athletic director at Georgia Tech from 1980 to 1997, he resuscitated the athletics department, establishing leading programs in basketball and women's sports and culminating in winning the 1990 National Football Championship.
Rice's success and influence were a key to Georgia Tech's becoming a world-class university. Retired since 1997, Rice co-teaches a leadership class each fall in the School of History and Sociology.
2015 Recipient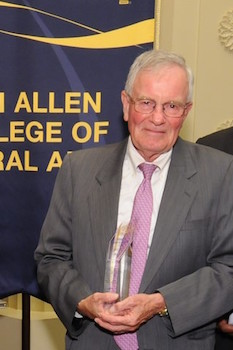 H. Bruce McEver
Industrial Engineering 1966
Founder and Chairman, Berkshire Capital Securities LLC
Member of Ivan Allen College Advisory Board
Bruce McEver founded Berkshire Capital in 1983, pioneering the concept of providing independent merger, acquisition, and strategic advisory services for investment managers and securities firms. As chairman, he directs the long term strategy and business development efforts of Berkshire Capital while also maintaining long-standing client relationships.
Prior to founding Berkshire Capital, McEver served as the assistant to the chairman of Paine Webber Group for mergers and acquisitions. He was vice president for mergers and acquisitions with Blyth Eastman Dillon. McEver began his career as a venture capital analyst at Bessemer Securities and was in corporate finance at Chemical Bank. McEver earned a Bachelor of Science in Industrial Engineering from Georgia Institute of Technology and an M.B.A. from Harvard Business School.
As a Lieutenant, USN, he was on the staff of the Assistant Secretary of Defense (Systems Analysis) in the Pentagon. McEver is a Trustee of the Georgia Tech Foundation and Trustees of Reservations (Mass.). He is also on the Board of the Poets House (NYC) and a member of the Dean's Council at the Harvard Divinity School.
Recently graduated from the Harvard Divinity School with a Master of Theological Studies, he is the author of three books of poetry. He is a professor of practice at Georgia Institute of Technology.