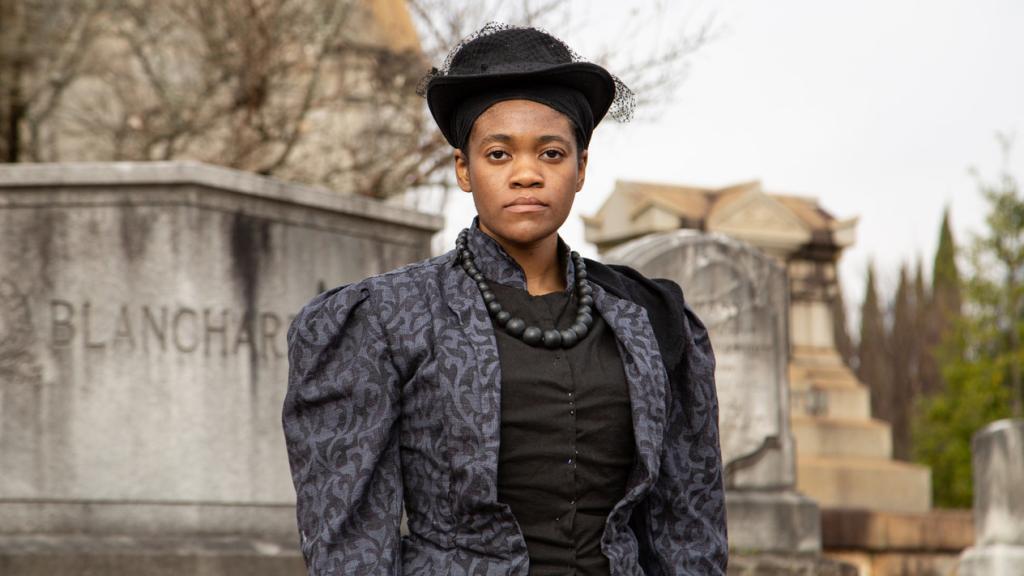 Candice Butts' family has been in Atlanta since before there was an Atlanta. And she's always felt that some of her ancestors, likely brought here as enslaved people, could be among the 900 people buried in historic Oakland Cemetery's Slave Square.
That visceral connection is part of what drove Butts, HCI 2022, to use what she had learned in the School of Literature, Media, and Communication to explore the possibilities of fusing technology and storytelling in sharing the unique role of Black women in mourning and funereal practices in the 1800s.
"When someone died, it was up to the women to plan the funerals and all the rituals that surrounded it," she said. "It's a part of history that's not as well known, and I really wanted to focus on that."
The work netted her and co-author Michael Nitsche, an LMC associate professor, a best paper award at the International Conference on Interactive Digital Storytelling in December.
"Candice's work is so rich because it is based in a deep and sincere interest in the humanities, Nitsche said. "She started off with a close look at the history – both social as well as geographical – of Oakland Cemetery and identified the story of the Slave Square as the core of her project. The actual implementation combines tangible interaction design and historical reenactment to bring the stories of the former Slave Square to life."
Embodying History, Technology, and Context
As part of her master's work, Butts made a replica of a typical mourning dress and embedded technological features to be used during a custom tour of Oakland.
"It is based on historic mourning fashion, but at the same time, it serves as the wearable interface for the main interaction," Nitsche said.
Before the tour, Butts handed each participant a small bag of items. At the first stop, Slave Square, participants would give her portions of a modular necklace that, when assembled, glowed blue.
The color had deep symbolism for many Black families of the time, and women often wore blue glass beads, she said.
"They were worn for adornment, as coming-of-age symbols for young Black women, and for protection," she said.
Butts' tour then took participants through the cemetery's Confederate Burial Grounds, the final resting place of some 6,900 soldiers who fought for the South in the Civil War.
During this portion of the tour, a speaker embedded in the dress plays audio from documents produced by white people lauding the Confederacy and offering "a sanitized view of antebellum society," as Butts and Nitsche wrote in the paper.
Butts' tour then continued to the cemetery's Africana American Burial Grounds, where she turned to the importance of symbolism. She used brooches with a floral motif that, when assembled, illuminated a string of LED lights in a floral pattern. This step highlighted the importance of a shared respect in African and European traditions for the role of nature in mourning, Butts said.
The tour concluded at the gravesite of Georgia Harris, a formerly enslaved person buried at Oakland. There, Butts invited participants to record their reflections using recording devices contained in black mourning ribbons given out at the start of the tour.
"The goal is to create a closing dialogue between the visitor, the object, and the location. These personal reflections are then collected and can be re-used as a contemporary perspective to the location, its history, and its challenges," Butts and Nitsche wrote in their paper.
LMC's Culture of 'Making With Meaning'
The technology is all controlled by a battery-powered Arduino assembly Butts wired and assembled herself. Such work flows from the "making with meaning" culture predominant throughout LMC, where graduate students studying Digital Media and Human-Computer Interaction and undergraduate students pursuing the Literature, Media, and Communication degree often work to advance storytelling with technology.
"Coming to Tech, it really allowed me to explore different modes of storytelling, things that I had never experienced before," she said. "I'd also never worked with coding or electronics before, so this project pushed me to learn new things."
Nitsche said such revelations are par for the course in LMC.
"I consider this typical for our work here as it inherently builds on both the humanities foundations and the interaction design background to find new perspectives to it," he said.