Ivan Allen College researchers will use a new $1.06 million grant to evaluate how to make at-home Covid-19 tests easier for older adults and people with vision or dexterity impairments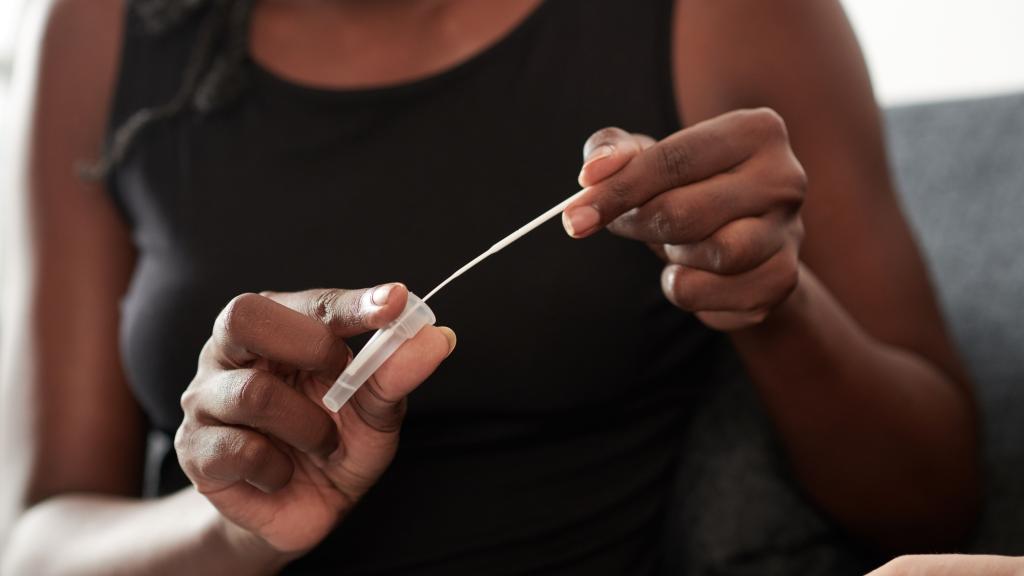 From complicated instructions to dropper bottles that are tough for arthritic hands to squeeze, at-home Covid-19 tests have not necessarily been ideal virus-fighting tools for people with disabilities.
As part of a new $1.06 million award, researchers at Ivan Allen College's HomeLab are helping fix that. The National Institutes of Health has tasked the lab to help address test accessibility for people with disabilities. The lab is a division of the Center for Advanced Communications Policy in the School of Public Policy at Georgia Tech.
"We've always included a measure of accessibility considerations in our work on these kits, but early in the pandemic, the focus was on rapidly developing at-home tests to respond quickly to that unprecedented crisis and getting them to as many people as possible," said Sarah Farmer, a research scientist and the lab's managing director. "Now, we're fine-tuning that process and trying to make sure existing and upcoming tests are as accessible as possible for as many people as possible."
The award calls for accessibility evaluations of up to 12 candidate tests, as well as broader usability testing for up to 30 more at-home test kits that have yet to reach market.
Our Center, and even more importantly, our entire country, is extremely fortunate to have HomeLab play such an important role in NIH's RADx Tech program.
Farmer's team — whose impactful research seeks to support the development of technologies that help people with disabilities — has already conducted many accessibility testing sessions using funding from the team's previous award under the Rapid Acceleration of Diagnostics (RADx) Tech program to commercialize Covid-19 tests quickly. They came away with a plethora of suggestions for test companies:
Making test strips and test tube openings larger so that people with limited dexterity or fine motor control issues can more easily manipulate them

Adding texture and indentations to components such as pouches, tubes, and test devices to make them easier to pick up and hold

Reducing the amount of force necessary to squeeze dropper bottles, open pouches, and even open the test-kit boxes themselves

Tethering dropper tips to the tube so that users can't put them in upside down or misplace them and providing audible or tactile clicks when inserting dropper tips so users know they have a good seal
"More than half of our recommendations are about instructions, which is good because that's often a quicker and easier fix," she said.
Among other things, her team has suggested adding easy-to-access digital instructions that are screen-reader accessible and videos with audio and additional context to make it easier for older adults and others with cognitive disabilities to follow along.
Dr. Wilbur Lam is a professor in the Wallace H. Coulter Department of Biomedical Engineering and co-principal investigator on the overall NIH test-evaluation grant through the Atlanta Center for Microsystems Engineered Point of Care Technologies. He said Farmer and her HomeLab team already have helped shape recommendations on test development and noted Farmer is now working on steering panels to help shape future projects.
"Our Center, and even more importantly, our entire country, is extremely fortunate to have HomeLab play such an important role in NIH's RADx Tech program," Lam said. "As we enter the new phase of the Covid-19 pandemic and look towards potential future pandemics, ensuring that home-based tests are accessible and usable to everyone, including those with disabilities or issues with mobility and dexterity, will be paramount. We're honored that the NIH has specifically looked to HomeLab for their guidance."
Farmer said she is excited about ongoing work in this area, including opportunities toon new and improved at-home tests, better-performing versions, and tests that can detect more than one virus at a time. The result: tangible research outcomes that will help save lives and improve public health.
"This work could not only be extended to other tests for things such as STDs or other respiratory viruses; it's also going to help us prepare for future pandemics. It's gratifying to be able to make a contribution."
The research is supported by the National Institute of Biomedical Imaging and Bioengineering of the NIH (Award No. U54B027690).