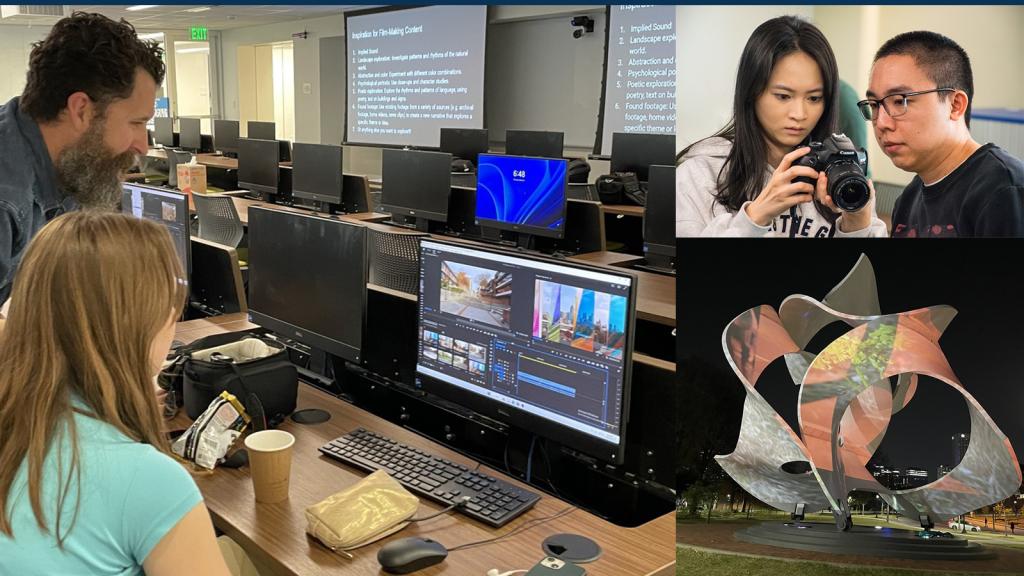 Art can be a powerful partner in sparking innovation and inspiring critical thinking about the impact of science and technology in an increasingly complex world. To support this crucial role for the arts at Georgia Tech, the Ivan Allen College of Liberal Arts and the Georgia Tech Library are partnering to create a new center called Interdisciplinary Media Arts (IMA).
The center's focus is enhancing artistic expression on campus, preparing students for careers as creative makers and innovators, and helping faculty develop creative approaches to improving scientific and technological research and outreach.
IMA will be administratively housed in the Ivan Allen College and draw participants from across campus. It will seek to enhance opportunities for sciences and engineering faculty seeking to creatively enhance their scholarship, consider creative approaches to public engagement, and find new ways to think critically about the societal impacts of technological innovation.
"Art is not new to the Ivan Allen College. We have been teaching visualization, AR/VR, literary arts, poetry, science fiction, and the use of interactive media for a long time," said Kaye Husbands Fealing, dean and Ivan Allen Jr. Chair in the Ivan Allen College. "However, this center does mark an important milestone in our continuing commitment to integrating inquiry in the arts, humanities, social sciences, and STEM disciplines."
In addition to deep subject matter expertise on community outreach and public engagement, the Georgia Tech Library brings unparalleled experience in energizing cross-campus collaboration, said Leslie Sharp, Dean of the Library.
"We are thrilled to partner with the Ivan Allen College of Liberal Arts scholars from across campus to bring the Interdisciplinary Media Arts Center to fruition," Sharp said. "One of our core areas of focus at the Library is collaboration with researchers, students, and faculty across campus — bringing their unique scholarship to life, then giving it a place to flourish and influence future work."
Interdisciplinary Media Arts will be located in the Skiles Classroom Building thanks to support from the School of Literature, Media, and Communication and its chair, Kelly Ritter.
New Center Will Foster Creative Approaches to Research, Public Engagement
The center describes media arts as an interdisciplinary approach that "fosters experimental creative technical practices in the visual, literary, and performing arts to influence future relationships between technology and culture."
The center's executive director, Associate Professor Yanni Loukissas of the School of Literature, Media, and Communication, said plans include an incubator for creative scholarship where artists and researchers can work together. The goal is to help researchers think creatively about public engagement and how art can help the public understand the work of scientists, engineers, and technologists.
Loukissas also hopes to create opportunities for more interdisciplinary research in which media arts can drive public engagement, understanding of, and action on complex issues. One example is the NSF-funded collaboration that included researchers from Ivan Allen College, the College of Computing, and the College of Design to reimagine disaster resilience through mapmaking.
The project, which included Loukissas as a co-principal investigator, resulted in the creation of new technologies that youth in Savannah used to advocate for policies to better prepare their community to withstand sea-level rise driven by climate change.
"Projects like this show how science, policy, and peoples' lives can all be improved when art and science come together collaboratively to reimagine and improve the human condition" Loukissas said. "This is the driving force behind the center."
An Urgent Need for Integrating Art and STEM
Georgia Tech's strategic plan notes the need to emphasize the arts to catalyze innovation. The need for this sort of collaboration among humanities and STEM disciplines has never been greater as the world grapples with increasingly opaque technology and a growing array of complex problems that defy solely cultural or technological solutions.
While no single discipline can solve the seemingly intractable issues facing the world, the center's collaborative initiatives will help bridge gaps among fields and promote a better understanding of difficult problems, potentially leading to new ways of seeing society's challenges.
This approach also can help the public understand complicated technology, think critically about scientific advancements, and get behind beneficial discoveries.
Students will also benefit from transformative learning experiences gleaned from collaborations among different fields, helping them think critically and creatively, communicate effectively, and work with others in various specialties.
Art Installation Marked Debut of Media Arts Center
The idea for the center grew out of conversations among LMC faculty, initially sparked by Loukissas, a designer of digital media, and Gregory Zinman, a media historian. Before long, their collaboration expanded to include faculty members Jillann Hertel, a professional artist, and Anne Sullivan, a computer scientist. The current form for the center emerged when the team from LMC partnered with media and arts specialists at the Georgia Tech Library, including Charlie Bennett, Catherine Manci, Alison Valk, Kimberly Sheldon, and Jason Wright.
The center had scheduled its first event pm April 25. Center faculty and artists-in-residence Micah and Whitney Stansell unveiled the first art installation created as part of the media artist in residency program.
Inversion (with sky + chromatic clock) is located on Cherry Street near Harrison Square. The artwork uses recycled copy paper from the Georgia Tech Library to create a moving screen hanging between trees. At night, projections of daytime skies with clouds light up the paper.
The art project is supported by grants from the Office of the Executive Vice President for Research and GVU/IPaT, and the Atlanta Global Studies Center, with additional support from the Georgia Tech Library, and the Ivan Allen College.
Are you interested in getting involved with Interdisciplinary Media Arts? Contact the team and let them know how you'd like to collaborate.