Ivan Allen Digital Media Artists Showcased in Atlanta Billboard Exhibit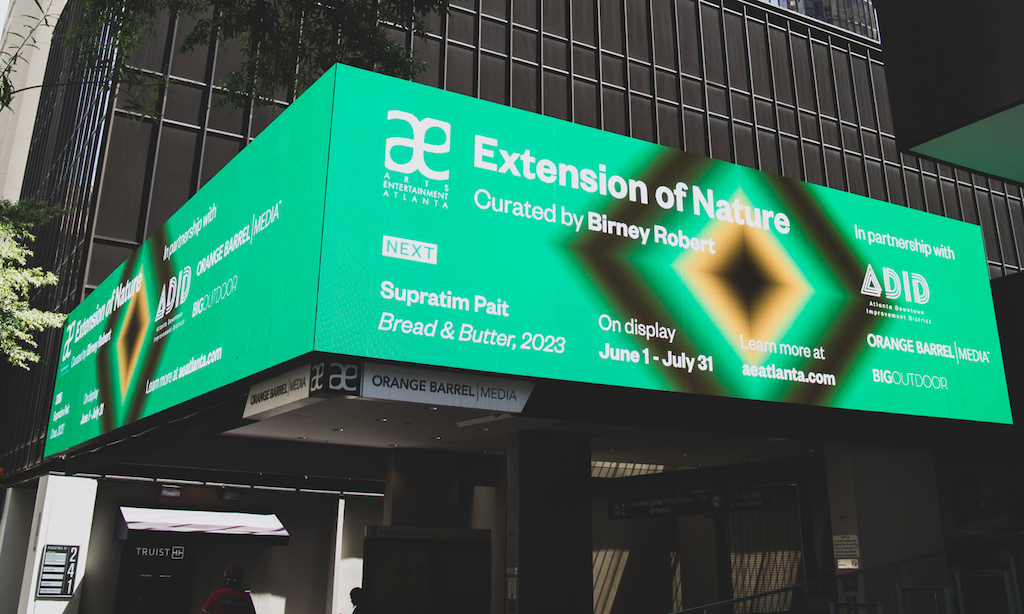 This summer, artworks by Ivan Allen College faculty and students were on display on four digital billboards across downtown Atlanta, encouraging passersby to reflect on sustainability and the complex, interdependent relationship between humanity and the natural world. The outdoor digital exhibit, entitled Extension of Nature, was curated by the College of Computing's Birney Robert and ran through July 31. 
Each of the four billboards displayed digital media artworks centered around themes of nature and sustainability, with works by three Ivan Allen College artists included.
Bloom, by Mark Leibert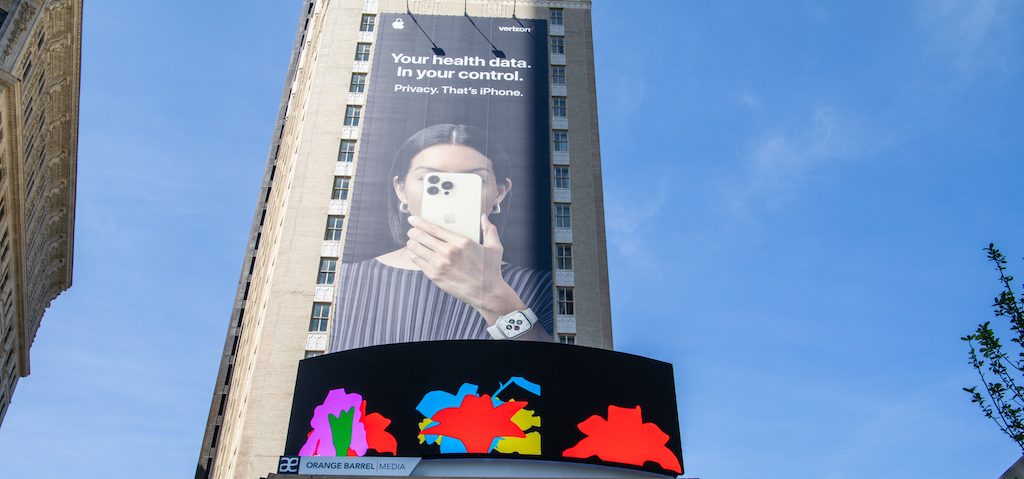 Bloom, which ran on the billboard at Margaret Mitchell Square (140 Peachtree St. NE), is an animation created by Mark Leibert, professor of the practice in Ivan Allen College's School of Literature, Media, and Communication (LMC). Bloom was originally exhibited in 2005 on the rooftop of the Sandler Hudson Gallery in Atlanta and modified for the Extension of Nature exhibition.
Leibert created the animated flowers in Bloom using a rotoscope technique, in which live-action film is traced over to create an animated version. The film he used for the piece is an extended 1950s ad for the Monsanto Chemical Company, known in part for its history of manufacturing the insecticide DDT and defoliant Agent Orange. From the early 1980s until the company's acquisition by Bayer AG in 2016, Monsanto was a major producer of genetically modified crops.
"I was making work about genetic engineering prior to 2005, and the interest continued with Bloom," says Leibert. "I constructed the layering of flowers and colors as a very short visual symphony." 
For the 2023 update of Bloom, Leibert was challenged with representing the piece in a new aspect ratio. He conceived of staggering the piece's presentation and timing to add a layer of complexity. 
Using technology to create a work of art – a work that is itself a commentary on technology – is an irony with which Leibert is comfortable.
"In my view, technology is simply a tool," he said. "We use bridges and fly planes to experience culture and be a part of a community, however local or global it may be. Art offers an opportunity to collapse hierarchies and disciplines, allowing us to look at problems from unique and personal angles. This might result in a work of personal expression – or it may lead to a breakthrough in computer science or chemical engineering."
Bread and Butter and Close, by Supratim Pait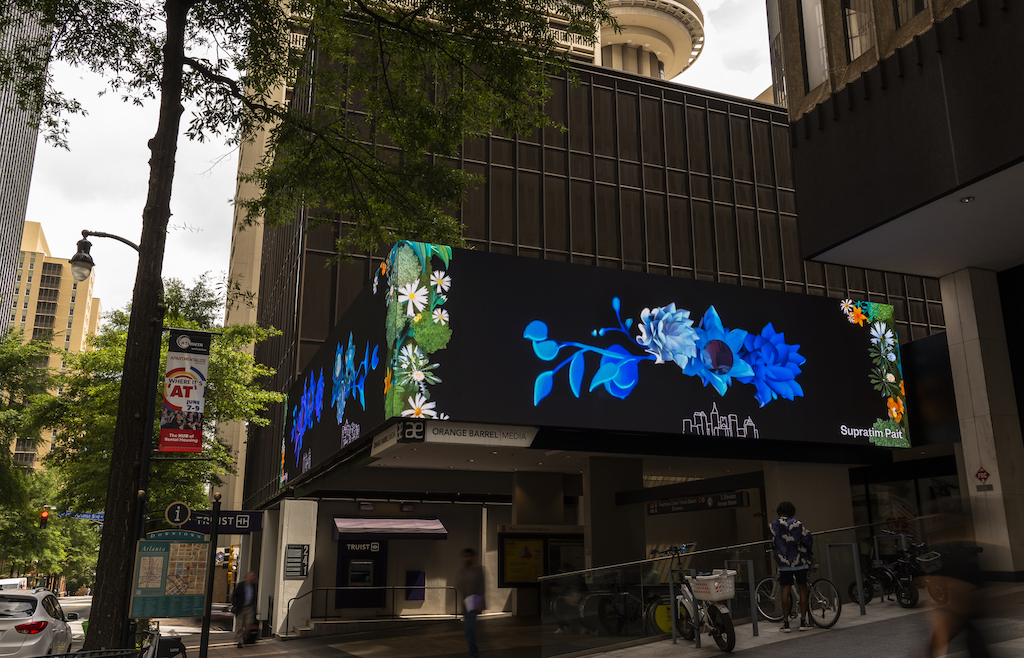 Supratim Pait, a student in the master's in Digital Media program in the Ivan Allen College, created two pieces for the Extension of Nature exhibition: Bread and Butter and Close. Both pieces, which combine 3D rendered, digitally illustrated elements and film footage, were displayed on the wrap-around digital billboard at Peachtree Center (235 Peachtree St. NE).
Pait says he can trace the beginnings of both artworks to a sound-reactive digital ad he created for a class on the computer as an expressive medium, taught by LMC Assistant Professor Noura Howell. Pait's ad included an image of a flower, which would bloom to the sound of positive, hopeful words and wilt in reaction to negative ones. The piece, and the ideas behind it, stayed with Pait. The first digital artwork he created for Extension of Nature, called Bread and Butter, showed images of blooming flowers alongside footage of people going about their busy lives in the city. The footage was mostly taken in Atlanta, with Marta trains and stations making a prominent appearance.
"People feel helpless to do anything about climate change when they're engulfed in a daily struggle to make their living, their bread and butter," says Pait. "I created a piece to show that our whole existence is tied to the patterns in nature and to inspire them to protect that delicate balance."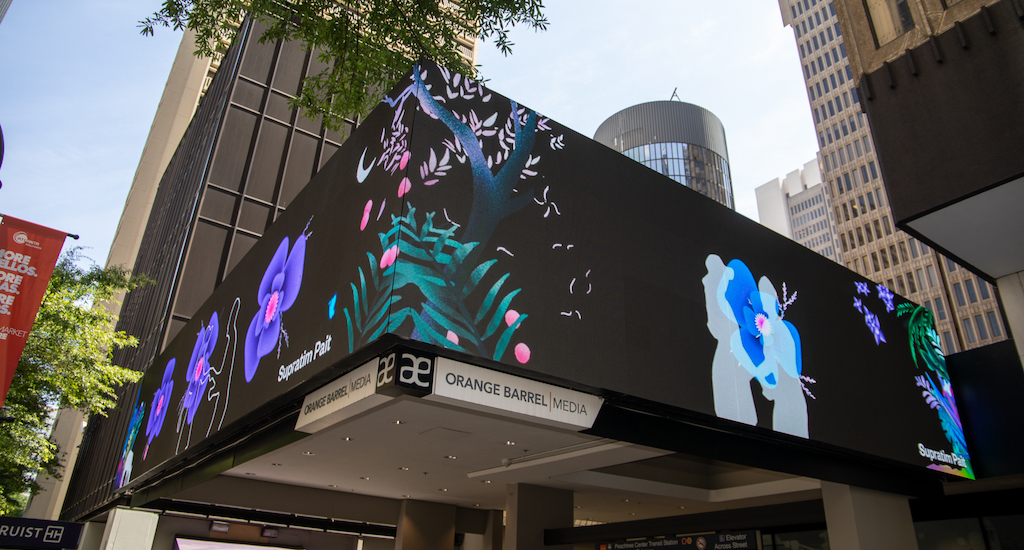 When Robert asked Pait to do a second piece for the Peachtree Center billboard, they kept the theme similar to Bread and Butter. Close returned to imagery of flowers, this time blooming as a dancing couple grew closer and wilting as they drifted farther apart. 
"I wanted to explore how nature also reflects human relationships," says Pait. "We don't necessarily think about it, but the connection to nature is there in our language. We tend, cultivate, and nurture relationships like a garden, and they grow, bloom, blossom, or wither."
Pait says his work on Bread and Butter and Close has been an exciting way to showcase the new perspectives, techniques, and ideas he's gained as a Digital Media master's student. Artist residencies, in particular – opportunities that he hopes to see more of in the future – were a source of inspiration and support.
"I come from an engineering background," Pait says. "Being at a liberal arts college and being exposed to this community of artists really pushed me out of my comfort zone. It gave me the freedom to experiment and work creatively with the technology. I think we need to emphasize that more."
Prana, by Daniel Phelps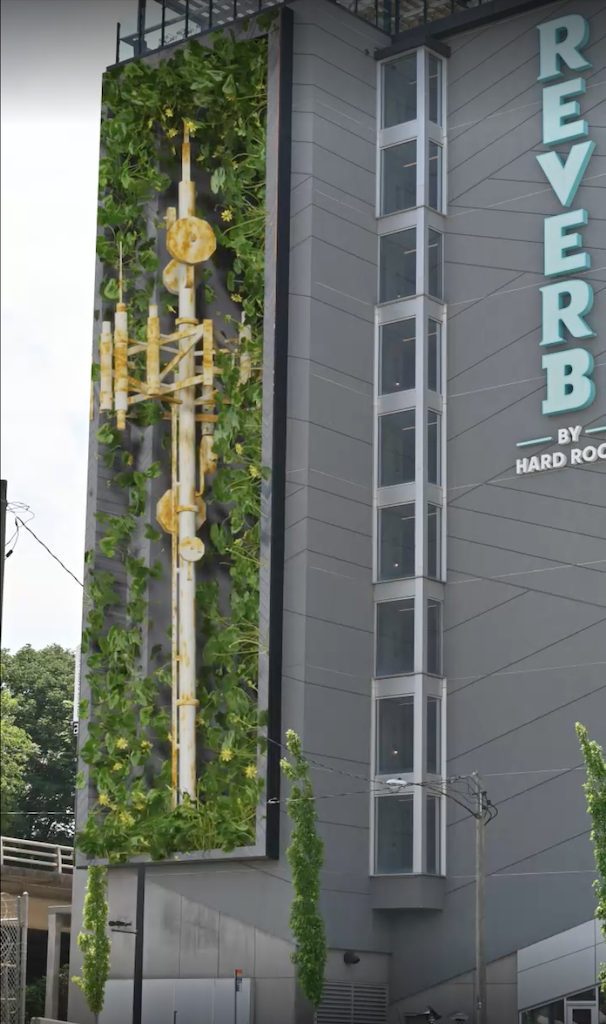 Prana, by Digital Media Ph.D. student Daniel Phelps, is a 3D rendering designed for the digital and physical space in which it was displayed. Prana uses off-axis image reprojection, a technique in which the viewer must stand in a specific place to see the piece in 3D, to encourage people to explore the area. 
"The area around the Reverb Hotel is overrun by infrastructure – just multiple levels of streets and concrete. There's almost no publicly accessible green space," Phelps said. But right in front of the Reverb Hotel, he noticed, was a small patch of green amid the concrete. 
This grassy area, home to two cell towers and large, noisy cooling towers, wasn't exactly an oasis of natural beauty. It was, however, an excellent place to reflect on how urban architecture and natural outdoor spaces might better coexist. 
Prana, which was displayed on the unusual vertical billboard on the side of the Reverb Hotel, is uncanny when viewed from this spot. A background color-matched to the building, combined with Phelps' digital media magic, made it look like a rusty, weathered cell tower emerged from within the Reverb. The cell tower blew in the breeze like a tree as vines sprouted and grew all around it, then receded into the background, crowded out by the blooming foliage.
The texture of the cell tower in Prana was pulled from photos of the cell towers next to the Reverb, with an aged effect added that gave the piece a dystopian feel that Phelps says is deliberate. "The aged aesthetic emphasizes how limited technology can be, whereas nature regrows itself and reclaims the space in time," he says.
"We have a responsibility in the symbiosis of nature and technology," Phelps said. "We're expanding and investing in infrastructure. There's a need for those things, but I also think our mindset in their design needs to change."
In addition to his Ph.D. studies in Digital Media, Phelps is pursuing a minor in architecture. He says his work with the School of Architecture inspires and supports the creation of artwork for outdoor digital screens.
"Interdisciplinary work opens us up to applying new techniques to traditional ideas – while retaining what made those ideas unique," he said. In the case of Prana, Phelps applied digital techniques to the concept of single-point perspective to create a piece that literally moves its audience. 
Coming Soon: Extension of Community
Extension of Nature was part of a series of exhibits curated by Birney Robert. The first exhibit in the series, Extension of Self: What It Means to be Human in a Digital World, ran during the Fall 2022 semester on Georgia Tech's campus. The next exhibit, Extension of Community: What It Means to be Sustainable in a Digital World, will open at Georgia Tech in August 2023.
Like the upcoming Extension of Community exhibit, Extension of Nature used art and technology to help people understand and think about ways to address climate change. According to Robert, using digital billboards in an urban setting to highlight sustainability and nature was an intentional irony.
"This exhibit brings our dependence on technology for communication to the forefront," said Robert. "What if, just for a moment, the primary purpose of the digital was to uplift the natural – and to send a collective message to Atlanta?"