In January 2017, Nick Tippens and Ali Yildirim were walking through Atlanta's historic Sweet Auburn District. A bright yellow bicycle with the inscription "come in and hear my story" drew the pair inside a store. And so began a collaboration to film a remarkable life story of strife and triumph.
The partnership between Digital Media master's student Nick Tippens and History, Technology, and Society major Ali Yildirim and those they met in the store that day culminated in the feature-length documentary Came from Nothing: The Story of Benjamin 'Big Mouth Ben' Graham. The documentary chronicles Sweet Auburn resident Benjamin 'Big Mouth Ben' Graham's journey from addiction and homelessness to a career as an entertainer and small business owner.
Challenges Behind the Scene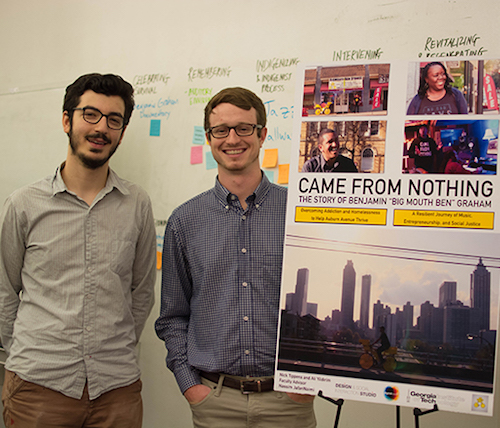 Although they had no experience producing a full-length documentary and only a semester to complete the project, Tippens and Yildirim gained approval to film Graham's story as their final project for the studio course "Sweet Auburn: Birthplace of Ideas," which was paired with a theory class, "Critical Theory, Social Justice, and Philosophy of Design," both taught by Nassim JafariNaimi.
Once underway, the team discovered that the project also carried an emotional challenge.
"We felt a lot of pressure to 'get it right' for the sake of Ben and his wife Tanya," said Tippens. "Maintaining clear, consistent communication with them, and taking all of their thoughts and suggestions into account throughout the process was crucial to the success of the project — these are the kind of values emphasized in JafariNaimi's class."
The team also had to figure out how to create an aesthetically appealing film using only one camera and two microphones. With no lighting equipment, they were limited to filming mainly outdoors. Hard work, creative problem-solving, strong time management, and guidance from JafariNaimi enabled Tippens and Yildirim to complete the 72 minute video before the end of the semester. "We made an early plan to be down on Auburn every week filming, with enough time at the end for editing. We also had a great format for shooting, Nick would film and I would interview. This allowed us to focus on our respective tasks." Yildirim said. The most compelling driver for the project became their resolve to share Ben and Tanya's story.
Taking it Public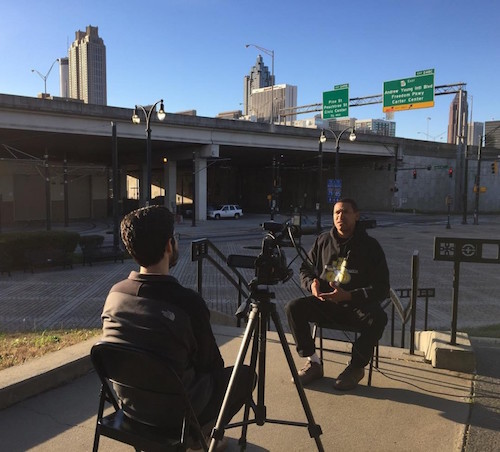 "The most fulfilling part of the project was seeing Ben and Tanya's reaction to the film once it was completed. They both got emotional at various points during the process, and were incredibly gracious with their time and grateful for ours. Together, we co-created something really great, and Ali and I gained a newfound appreciation for the Auburn Avenue community and people like Ben and Tanya who are so invested in improving its future."
Those reflections embody the goals of JafariNaimi's class which introduces students to the roles technology and media plays in advancing social justice in different communities and particularly the Sweet Auburn Historic District. Students are taught the importance of working together with residents of communities to address some of the unique challenges they face.
Came From Nothing: The Story of Benjamin 'Big Mouth Ben' Graham premiered to an enthusiastic audience of more than 100 on May 4, 2017, at the APEX Museum on Auburn Avenue. A second screening took place on September 7, 2017, at Fulton County Drug Court, as part of their "Recovery Month" programming.
Tippens and Yildirim commented that the second event was probably the most meaningful public exhibition of their work yet, calling it "a particularly humbling experience...We were invited to screen the film for about 75 people currently moving through their recovery program. Following the screening, Ben took hard-hitting and heartfelt questions from people struggling through the exact same experiences he once did. As always, he provided inspiring insight into the keys to his own recovery. As he said himself, the solution is not the same for everyone, but several in attendance remarked that his example gave them renewed hope for their own way forward. That is why we produced this documentary."
"In the end, we really wanted the project to belong to Ben and Tanya, and I think we were able to strike a healthy balance of putting together an entertaining documentary while still authentically and respectfully capturing their perspectives on life," said Tippens.
Tippens and Yildirim expressed that they gained a great deal personally from making the film - a new friendship with the Grahams that they expect to last a lifetime.