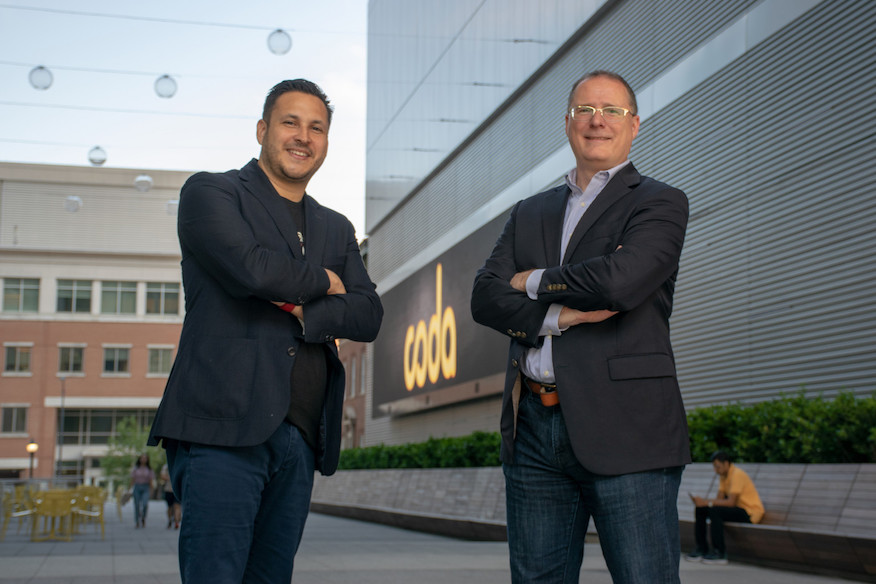 Two Ivan Allen College of Liberal Arts teams move into the Coda building to continue their innovative research using data analytics to solve problems in health care, energy, and more.
Coda is one of the most exciting building projects at the Georgia Institute of Technology in years. Purpose built to encourage transdisciplinary collaboration among researchers and between researchers and industry, the Tech Square building is Georgia Tech's new headquarters for research in data analytics. That includes two teams from the Ivan Allen College of Liberal Arts.
The Health Economics and Analytics Lab (HEAL) led by Danny R. Hughes, a professor in the School of Economics, occupies space in the "Health" neighborhood on the building's 11th floor. Assistant Professor Omar Isaac Asensio's big data research team from the School of Public Policy is on the 12th floor, in the "IDEaS (Institute for Data Engineering and Science)" neighborhood.
"HEAL's presence at Coda embeds the team into an interdisciplinary ecosystem that is critical for tackling the largest problems facing our health care systems," said Laura O. Taylor, chair of the School of Economics. "Danny and the HEAL lab bring an economics framework to these problems, and given their deep expertise in big-data analytics, they are a perfect complement to build Georgia Tech's health analytics enterprise."
Kaye Husbands Fealing, chair and professor in the School of Public Policy, said Asensio's research is already attracting attention from funders, who have visited his lab and expressed excitement about his transformational research, which uses behavioral modeling to address environmental and transportation policy questions.
"Omar has received several research awards from funding agencies and from industry," she said. "Having a lab in Coda will give Omar's team access to networks of researchers in IDEaS who, as he does, use machine learning tools, high-volume real-time data, and proprietary industry data. The opportunities afforded by these collaborations will provide additional benefit to funders and the findings will have policy resonance."