British comedian Sasha Baron Cohen's best-known character, Borat, is racist, anti-Semitic, homophobic, and sexist — a thoroughly disgusting human being.
And that's the point.
"Baron Cohen questioned some of the prevalent western identities," says Paul Alonso, an assistant professor in the School of Modern Languages at the Ivan Allen College of Liberal Arts. "His characters are exaggerated illusions that many people have created in their minds about the 'other' based on ignorance about the rest of the world, so his politically incorrect satire is really a critique of cultural ignorance in the western world."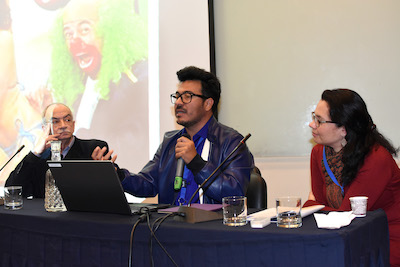 A Peruvian journalist and author who joined the Georgia Tech faculty in 2013, Alonso's academic research focuses on the convergence of journalism, entertainment, satire, politics and popular culture. His articles on this topic are forthcoming in the Bulletin of Latin American Research, The Journal of Popular Culture, and the Journal of Iberian and Latin American Studies.
Satire, with deep roots in a literary tradition, is enjoying renewed popularity worldwide through electronic media and global communications — technologies that are shaping the ways satire is produced, delivered and received, as well as the ways satire influences public discourse and political communication. Above Photo: Alonso presenting his research at the Association for Education in Journalism and Mass Communication (AEJMC) Regional Conference in Chile, 2015
Well-known contemporary examples in the U.S. include The Daily Show, John Oliver's Last Week Tonight, and the online satiric show, Between-Two-Ferns.
Satire is experiencing resurgence not only in English-speaking countries, but around the world, says Alonso, whose recent research focuses on the unexplored role of satire in Latin America.
"My research maps, contextualizes, and analyzes relevant cases to understand the relations among political information, social and cultural dissent, critical humor, and entertainment in the region," he explains. "It also shows that, as satiric formats travel to a particular national context, they are appropriated in different ways and adapted to local circumstances, thus having distinctive implications."
Alonso analyzes representative, influential, and experimental satiric cases in the region and their role as agents of social, political, and cultural critique." Drawing from theory on satire, infotainment, and media spectacle, I examine the critical role that a new generation of satiric TV shows, magazines and online TV shows have played in their respective countries, challenging the status quo, traditional journalism, and the prevalent local media culture."
Case in point: Peter Capusotto y sus videos is a popular Argentinean satirical TV show that criticizes the entertainment and music industry in social and political terms. Videos of the show have been available online and have become popular throughout the region. Capusotto ridicules celebrity culture and targets stereotypes of Argentinean entertainment media.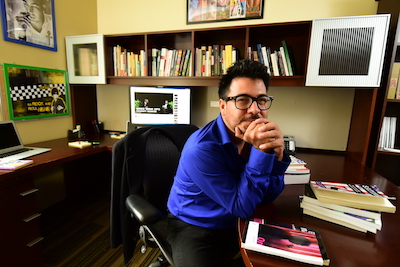 "The show deconstructs key aspects of Argentinean urban identities reflected in popular culture, more specifically, in rock music (rock nacional), a genre with a particular evolution and relevance in the country. But it also exposes a variety of social tensions after the 2001 socioeconomic crisis in Argentina and during the Kirchner era," says Alonso, referring to the presidencies of Néstor and Christina Kirchner.
The author of three books of fiction, Alonso's research is aimed at scholars and students of media, journalism, popular culture, political communication, and Latin American studies. At the same time, true to his journalistic background, he writes in a readable and accessible style that appeals to a broader audience. His work also informs his pedagogy at Georgia Tech, where he teaches classes on Journalism in Latin America and Satire and Media in the Americas.
From a larger perspective, "the marriage of journalism and entertainment suggests potential implications for the way citizens obtain and process important civic knowledge," he says. "In the modern electronic age, critical humor may foster widespread cynicism rather than the development of critical reasoning skills and civic engagement."
---
About Paul Alonzo
Assistant Professor, School of Modern Languages
Paul Alonso is an assistant professor in the School of Modern Languages at Georgia Tech. As a journalist, Alonso has published in some of the most prestigious newspapers in Spanish (such as El País from Spain and El Nuevo Herald from Miami), and in diverse international magazines. He is the author of three books of fiction — Por las Muertes que Cargamos (2001); El Primer Invierno de Diana Frenzy (2006); and Me Persiguen, relatos de escape (2009) — and has hosted a weekly interview show at Terra TV. His academic research focuses on the convergence of journalism, entertainment, satire, politics, and popular culture.