Alice Clifton
Hometown
Ph.D. in the History and Sociology of Technology and Science
A Fascination with Technology and Society
As I look back in retrospect on my undergraduate education, I realize that I chose to study engineering because I was interested in how engineering could impact the world. I was a passionate environmentalist, and I believed that training in chemical engineering would allow me to clean up industrial processes and help save the world. Maybe I could have — I certainly could do the work —but I found my classes in history and in science and technology studies to be much more interesting. Those classes made me significantly happier than my day-to-day work in STEM. Years later, I'd remember them and realize that the questions we asked in those classes were the same ones I've been asking myself all along — and the ones to which I want to devote my life's work.
When I earned my B.S. in engineering, though, I hadn't quite come to that conclusion. It's easy to see now that the time I spent volunteering on an organic farm in Scotland (pictured below, left) and the years I worked as a baker in Ireland (below, right) and here in Atlanta were all very motivated by my fascination with human-tool interaction.
I learned how very foreign a culture can be, even in a country that predominantly speaks English. I learned to step outside of modern American culture and to look at it with a hard, critical eye. And I definitely learned a great deal, first-hand, about how we interact with tools and how changing a single piece of equipment can completely alter an entire work environment in very unexpected ways.
By the time I was working in history museums in Savannah, Georgia, I knew that I wanted to return to academia to study the historical relationship between society and technology, so that line of work was a perfect launchpad for me.
Researching Technology in the Domestic Sphere
At the time of publication, my research interests dealt with resistance to technologies ("disrupting the narrative of linear 'progress,'" some might say) and with gender. For my master's thesis, I intended to study the production of chenille cloth (bedspreads, robes, etc.) in northwest Georgia, circa 1900 - 1960. Women and their families were making it by hand and selling it long after machine production was possible. I wanted to learn how this uneven transition to machine production occurred and how consumers' romanticization of craft products influenced it.
I also wanted to figure out how the "domestic sphere" played into all this. Was it easier (or more appropriate) for women to work and earn money through chenille because they were making it inside the home? Did it matter at all when families were so poor and everyone had to pitch in? What happened when machines were introduced? Very generally, how did changes in chenille production reflect the broader social and political contexts in which they occurred?
Summer 2015 Research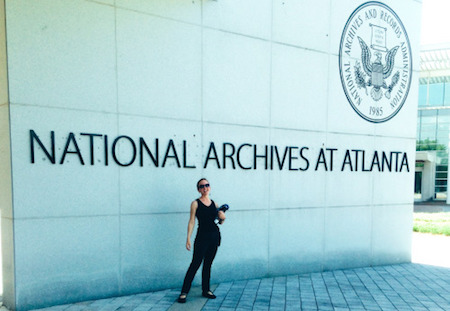 The most interesting project I've ever been part of to date was my summer 2015 research assistantship.
One of the specialists at the National Archives here in Atlanta alerted Professor Bill Winders to some boxes of documents they'd found on post-WW2 agricultural planning in the south, and I tried to see what we could glean from them.
I literally read documents that no one may have seen or even known about for decades, and found policy decisions that helped to change the entire south!
Favorite Moments
My favorite moments in the program so far have been during my seminar classes, when several of us are wrapped up in a really intense conversation about what a certain historian or social theorist meant or what we can draw out of certain work. There are times when I can literally feel myself growing as I find new ways to sort out and express my thoughts in real time. I also love my teaching assistantships when students come to my office hours to talk about topics we've covered in class. It can be exciting to see those "light bulb" moments when it all clicks and I know that they really understand something!
Science and Technology Studies at Georgia Tech
I'm an Atlanta native, but I was perfectly willing to go anywhere in the U.S. to attend the graduate program I liked most. After an exhaustive search, I realized that Ivan Allen College was the best choice for me. First, I knew it was an excellent program that could give me broad training in history, sociology, and science and technology studies.
Second, there were several professors in the program whose research interests matched up with my really varied interests. I knew that I'd likely find an excellent mentor no matter my eventual topic of focus.
Last, I liked everyone I met here! They were doing interesting things, they appreciated what I could bring to the table with my nontraditional background, and they were nice. I felt like I could spend the next several years here and really grow and feel supported.
There are times when I can literally feel myself growing as I find new ways to sort out and express my thoughts in real time.
Hobbies
When I'm not working, I like to balance out what I've been doing at school.If I've spent all day consuming (say, books), I'll do something productive/creative, like cook a good meal or knit. If I've spent all day producing (say, a paper), I'll consume a movie or some music. Georgia Tech's radio station, WREK 91.1 FM, is excellent! I balance out the inactivity and isolation of this kind of work by riding my bike and going out with my friends for trivia. I've also been learning to play Magic the Gathering, which is surprisingly fun!
Advice for Current and Future Students
My best advice to current or future Ivan Allen College students — or to anyone — is to ask questions! The greatest breakthrough for me as a scholar was in learning to be comfortable admitting my ignorance. If I don't know something, no alarm bells go off, and no one thinks less of me! I just ask, and then I learn something new: the best possible result!
2016 Homer Rice Award in History and Sociology of Technology and Science Recipient
Alice Clifton was presented with the 2016 Homer Rice Award in History and Sociology of Technology and Science.  This annual award is presented to the History, Technology, and Society graduate student who, through volunteerism, has fostered a sense of community within the School of History and Sociology, as well as within broader communities. Named in honor of Homer Rice, Georgia Tech's former athletic director who initiated the award, it offers a modest monetary stipend, as well as an inscription of the recipient's name on a plaque in the main hall of the Old Civil Engineering Building.