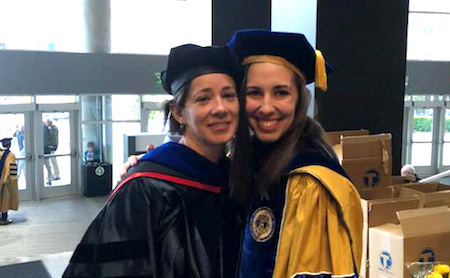 Bekah St. Clair
Degree
Triple Jacket: B.S./M.S. PUBP, Ph.D. PUBP 2019
Hometown
Hometown: McDonough, Ga.
Career
Health Policy Fellow, Centers for Disease Control and Prevention
Bekah St. Clair didn't dream of Georgia Tech when she was growing up. In fact, ;the university was scarcely on her radar when she was looking for her college destination, and it took a last minute change of heart to get her on campus.
But once she was a Yellow Jacket, she was truly all in. St. Clair was at Georgia Tech for 10 years total, from 2009 to 2019, and completed the five-year B.S./M.S. program in public policy before going for her doctorate in the program. She earned her Ph.D. in summer 2019 and walked in the Fall 2019 Commencement ceremony. Only 1,141 of the roughly 183,000 Georgia Tech graduates have earned those three degrees from the Institute, and even fewer than that have earned three from the same department.
St. Clair, who currently is a Health Policy Fellow in the Office of Policy and Strategy at the Centers for Disease Control and Prevention (CDC), answered a few questions about her path to Georgia Tech, her best memories from her time on campus, and what her journey towards becoming a Triple Jacket taught her.
Where are you from, and what brought you to Georgia Tech?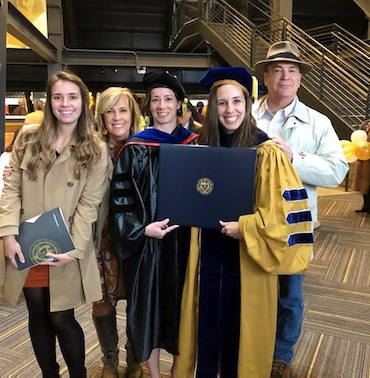 I am a Georgia native from McDonough, GA, who had been in Atlanta for pretty much my whole life without giving much thought to Georgia Tech. I had no idea that Georgia Tech is so much more than an engineering school.
In high school I had committed to play college soccer at a school in South Carolina, but a family friend in the fall of my senior year convinced me to "just apply [to Tech] and see what happens". Now, at this point, I still had no idea about Georgia Tech, nor had I ever even been on campus! I applied on literally the last day to get your applications in. I visited Georgia Tech in spring of 2009 (my senior year of high school) and fell in love. I was still committed to playing college soccer (a longtime goal of mine) and remained indecisive for a few months on what I would do if I got accepted. A few months later, I got my acceptance letter from Tech. Immediately upon seeing those words, I knew that Tech was where God wanted me to be. I took a leap of faith and picked a major that just sounded cool. It was scary, but there was something in me that was so sure, so confident in this decision. I couldn't explain it other than I knew in my heart that this was my path.
It was then I realized that driving research and learning how to conduct research in the most comprehensive and rigorous way meant staying in school. At the time, I was only looking outside of Georgia Tech (I know, crazy, right?!). I felt that I had been there a long time and that maybe I should try somewhere different. However, my advisor and mentor, Dr. Kimberley Isett, presented an option to stay and train under her. I jumped on that opportunity. She is renowned in the field as a professional and such a kind and generous person overall. This was perfect for me.
Staying at Georgia Tech for all three degrees was definitely not my intention. Being at Georgia Tech has led me to close friendships, my fiancé, and unexpected joys along the way, such as coaching the undergraduate club soccer team. I coached for five years, and spending time with those girls and the sport that I love was irreplaceable.
What are you most proud about from your time here?
Georgia Tech is a world-renowned university. It's hard: really, really hard. But it makes you better: It challenges you and pushes you, allowing you to become a researcher, a scholar, a teacher, a problem solver -- whatever you want to be. Though I am proud of graduating from Georgia Tech and overcoming barriers and passing exams and defending my dissertation, what I am most proud of is the person who walked out of Georgia Tech. What I got most out of my time here was resiliency, adaptability and creativity. I learned the importance of people, having your people and relying on each other and loving each other. I learned that it's okay to ask for help, and that perfectionism is not the goal.
One thing that I will always remember my advisor saying to me was: "This is your work. It's what you do, it's not who you are." Whoa. I wrote that down and stuck it on a sticky note on my bathroom mirror in my apartment. It was a defining moment for me because so often I defined myself based on how I performed and what I was capable of. What she meant here was that your work is not who you are as a person. That's when it started to hit me: No matter the work, no matter the workload, it's all about who we are as people. I am definitely not great at not being such a perfectionist, but it's humbling to come back to that place and remember that your work is not your life; it's what you do. And only that. So, do a good job. Do your best, but do not lose yourself.
My faith deepened in this time, my friendships and relationships deepened in this time, and that was not because I had all this free time to spend with everyone. (Because every graduate student knows that free time is more of an abstract concept.) It was because we learned how to rely on each other and need each other and be real with each other. My achievements that I am most proud of are not tangible. It's who I became in that whole process, and I did not even know how greatly I was changing at the time.
What do you hope to accomplish in your career?
I want to make a difference. I know it sounds cliché, but that was why I wanted to do research. Currently, I am at CDC in the Office of Policy and Strategy, and my favorite part about being here is that before we begin any project or collaboration, we ask: "And what difference will this make?" This is incredible! It means that every project, every research question is focused on making some impact on our community.
What do you like to do in your free time?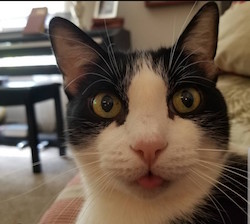 In my free time (which I now magically have more of!), I love spending time with family and friends. I play the piano, do yoga, and I am currently learning all about wine tasting – being an amateur sommelier is a goal! I also have a cat, Dr. Preston Burke, who also enjoys doing yoga with me. Though, I must admit, I do not know his poses very well. He tends to make up his own.
In October of this year I am marrying Marshall Sims, a fellow Georgia Tech grad and Public Policy alumnus! We had our senior task force (capstone) project together back in fall 2012/spring 2013. We were just friends then. After graduation, he went on to law school at UGA and I stayed at Tech.