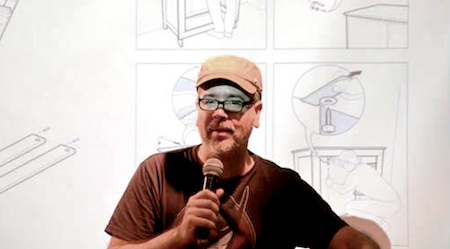 Gonzalo Frasca
Degree
M.S. Information Design and Technology 2001
Career
Chair of Videogames, ORT University (Uruguay); Founder, okidOkO Learning Games Studio
Gonzalo Frasca is recognized as a co-founder of the field of game studies. His games are commercial (Disney, Pixar, Lucasfilm, and Warner Bros.) as well as critical and independent. Perhaps his most famous game is September 12, a response to 9/11. In 2009, Frasca received a Lifetime Achievement Award from the Knight Foundation. His work has been covered internationally (The New York Times, Le Monde, Der Spiegel, BBC, Wired), and he has been a highly prolific presenter (TEDxMVD).
---
After Graduation
After earning my master's in Information Design and Technology (now called Digital Media) from Georgia Tech, I went on to earn my Ph.D. in Video Games from the IT University of Copenhagen. From 2001 - 2012, I also ran my former game studio, Powerful Robot Game, then spent two years on sabbatical.
During my sabbatical, I looked for what to do next. I already had a successful career both in game development and as an academic, but I felt that I needed a new challenge. I tried different things, but at the end of my quest I found myself back home in Montevideo, Uruguay. Now I'm focusing on education, which has been my family's trade for three generations now and the reason why I founded a learning games studio.
It's an extremely challenging area, and it's tough to survive financially, but the payoff is incredible. In addition to my classes at ORT University, I've been volunteering by teaching game design to 12-year-old students.
Building Learning Games
I'm currently working on a set of learning games that teach multiple-digit arithmetic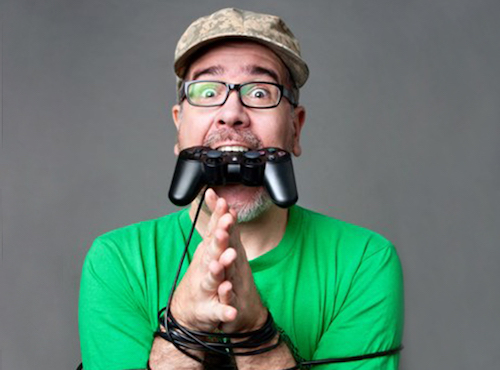 operations by using video game tutorials.The games based on the techniques pioneered by the DragonBox learning games series, which are built by a friend of mine. The whole idea is to learn the procedures in the same way that you learn to play a video game.
While the production is quite humble, it's an extremely ambitious project, since it aims to teach multiple digit addition, subtraction, and division in 8-10 hours total. It has the potential to save our kids around the world billions of hours per year. I know, it's insanely ambitious but I'm quite confident that it can be made.
My plan is to start testing in Uruguay, where the government provides every child with their own laptop or tablet and free Internet access. I plan to market the first games in order to fund future projects, but eventually I want to make them free. I am making them in HTML5, so they can work on any tablet or smartphone.
What I learned from Tech
In terms of problem solving, the most useful thing I learned at Georgia Tech was to keep my mind in the sky but my feet down to Earth. I would always come up with some crazy idea, and my mentor (Dr. Janet Murray) would patiently listen to me and then insist on me writing down what I mean from the point of view of the user/player. And then prototyping. It's easy to fall in love with ideas; it's harder if you look at them straight in the eyes, inches away. That's a process that I went through hundreds of times during my years at Tech. It made me more humble and always focused on the human.
It's easy to fall in love with ideas; it's harder if you look at them straight in the eyes, inches away. That's a process that I went through hundreds of times during my years at Tech. It made me more humble and always focused on the human.
Of course there is a time to focus on the technology but always with the person in mind. That's why I see the Ivan Allen College as a big playground where very smart people keep a playful attitude towards technology. You test its boundaries, and you explore it deeply until you find a way that it can connect with humankind. Design is about using technology to create dialogues.
Hobbies
Asking what I do in my free time is a tough question, because my workplace is actually a hangout place. A few months ago, my 6-year-old nephew visited my office. Somebody later asked him, "What's an office?" and he replied "It's like a tiny house packed with toys and video games." So one of the perks of going indie is to be able to take a Breaking Bad break whenever I feel like it.
Though I currently live in Montevideo, Uruguay, where I was born, I still travel quite a lot giving lectures and conference talks. I'm happy in my home country but it's tiny so I need face-to-face time with peers around the globe, so I spend about 2 - 3 months a year abroad. I travel both to Europe and the U.S. and more recently within Latin America. I've been going to Mexico quite frequently lately, and I am fascinated by the culture there.
Last but not least, I walk. I walk a lot. Actually, when I was looking for an office, I made sure that it was a 30-minute walk from my house. So every day I walk at least one full hour; I lost 25 pounds and haven't regained them.
Advice for Current and Future Students
Always team up with people who are smarter than you. You need to have access to colleagues who can openly give you feedback without fear of hurting your feelings. It's more important to be proud of the process than to be proud of your creations.
Distinguished Alumni - Pioneer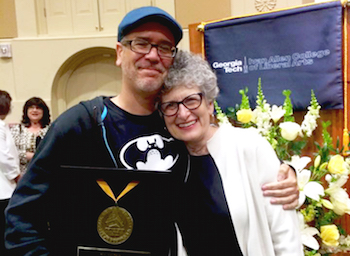 In Spring of 2015, Gonzalo Frasca was named a Distinguished Alumni Pioneer for his contributions to the field of game studies. The Pioneer Award recognizes alumni with long term personal and professional achievements who have brought distinction to themselves, tangible benefit to their communities, and credit to their School, the Ivan Allen College, and Georgia Tech.
Frasca is picture with his mentor Janet Murray, an internationally recognized interaction designer and professor in the School of Literature, Media, and Communication at Georgia Tech.