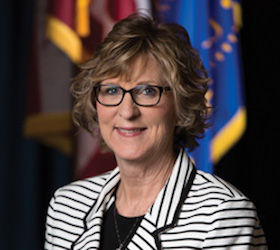 Lynn Austin
Degree
Ph.D. Public Policy
Career
Deputy Director for Management at the National Cancer Institute
During his last State of the Union address to the country, President Barack Obama announced a new initiative that amounts to a cancer "moonshot" — that is, an unprecedented commitment to fighting cancer much like the United States' effort in the 1960s to put a man on the moon. Few could have been happier than Lynn Austin, the chief operating officer for the National Cancer Institute (NCI), part of the National Institutes of Health.
Austin may not be trained as a medical doctor or epidemiologist, but she inarguably has made a larger impact during her operations career by "keeping the trains running" and making sure that researchers and practitioners have the resources to do their jobs.
At the NCI, she oversees 5,000 employees—500 of them who work for her directly—as well as a budget of $5 billion and 120 buildings and facilities.
The revitalized commitment to fighting cancer means she'll have more support than ever. "I absolutely love my job," Austin says. "We are doing the cutting edge, complicated research that's difficult to fund outside of government. Then we share our findings so that that they can be put into practice broadly." That means not only in the U.S., but also globally.
"The NCI works with other countries to help them detect, deter and respond to diseases and conditions," she says. "We also learn a lot from other countries' research and operations, and we work together to tackle problems."
Austin long yearned for such a world-changing career. "I was indoctrinated into government service at a young age," she says. "My mother worked at the Centers for Disease Control and Prevention (CDC) and I found it so interesting that what I was seeing in the news was what my mom was dealing with in her job. She helped send epidemiologists out to research such things as botulism outbreaks."
Austin herself served with the CDC for 25 years. While there, she was empowered to earn her PhD in public policy from Georgia Tech, which helped her advance her career. Former CDC Director Julie Gerberding named her chief of staff in 2005. And Austin was later selected as deputy director for the Office of Public Health Preparedness and Response in 2009. In that role, Austin led operational responses to the earthquake in Haiti, the H1N1 flu outbreak and many others.
"I had come full circle from what I saw my mom doing," she says. "As I did with my time at the CDC, I feel the impact of my work at the NCI every day. I love solving problems and making sure the work gets done—especially when the stakes are high."