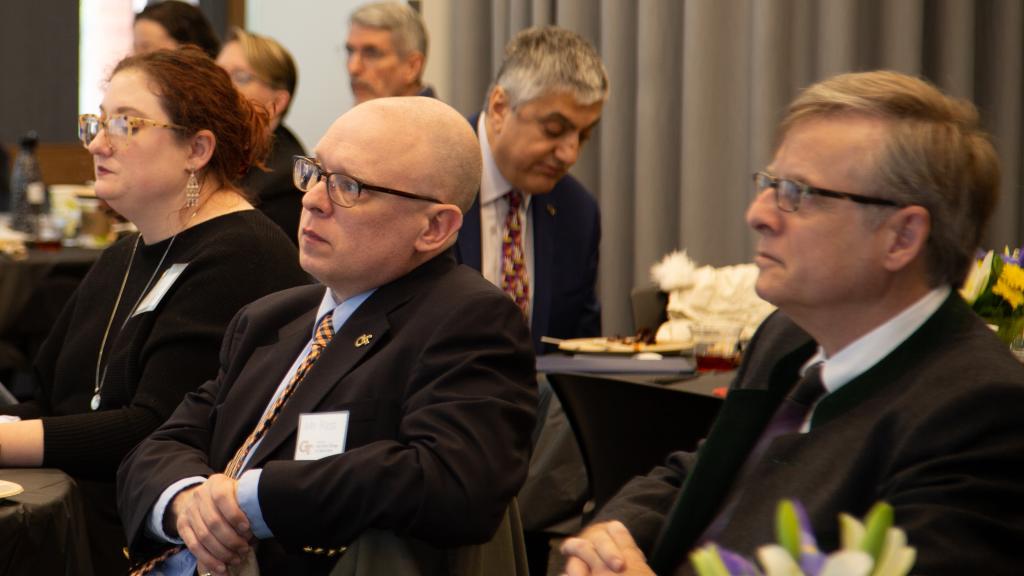 What would Georgia Tech, the rest of American higher education, and society get from more deeply integrating humanities and social sciences with the STEM disciplines? Just ask Julia Kubanek, a chemistry professor and Georgia Tech's vice president for interdisciplinary research.
"We will get measurable outcomes by seeing medical innovations and interventions that address and prevent health problems for populations whose health has been undervalued," Kubanek said. "We'll get peace engineering, and technological innovations that protect health and safety, especially in marginalized communities.
"We'll get climate change solutions, agricultural and environmental innovations that don't only consider the short term-costs or profits, and that aren't blocked from implementation because social behavior, political or economic factors that were not adequately addressed at the start that get addressed later.
"We'll also get increased resilience and sustainability of the planet, increased health and education of people across the planet, and more equitable distribution of resources and power that reflect the values of democracy."
Kubanek was just one of the speakers at Humanizing STEMM for the 21st Century, a symposium organized by the Ivan Allen College of Liberal Arts to discuss ways to reunite disciplines long separated by increasing specialization and compartmentalization. STEMM refers to Science, Technology, Engineering, Mathematics, and Medicine.
The Importance of Interdisciplinary Collaboration in Higher Education
The symposium grew out of an article that Kaye Husbands Fealing, dean and Ivan Allen Jr. Chair in the Ivan Allen College wrote last year on the importance of interdisciplinary education for Issues in Science and Technology with Senior Associate Dean Richard Utz and former graduate student Aubrey DeVeny Incorvaia.
"This event was a wonderful way for us to begin thinking about how we can more purposefully reintegrate these traditions to make technology better and to ensure it serves humanity," said Utz, who organized the event.
"It's particularly important here at Georgia Tech, because our students don't want to come here to be pigeonholed into narrow-band categories. They want to identify and then solve some of these complex problems we are facing, and those problems cannot be solved by any one of these specialized disciplines on their own."
Vice Provost for Undergraduate Education Steven Girardot kicked off the symposium by suggesting that general education is fertile ground for fostering interdisciplinary mindsets and helping break down some of the traditional barriers between STEMM fields and the humanities and social sciences.
Becky Grinter, a professor in the School of Interactive Computing, then pondered what might have happened had humanists been in the room at the invention of the ubiquitous networking technology, Ethernet.
"What kinds of imaginings might we have if we had a rich sort of vocabulary, a rich discourse of stimulus from the arts and from the social sciences? Would we have gotten something that was different and possibly more interesting and possibly that would grow more effectively with the population?"
'Integration is Creative': Examples of Successful Integration in Practice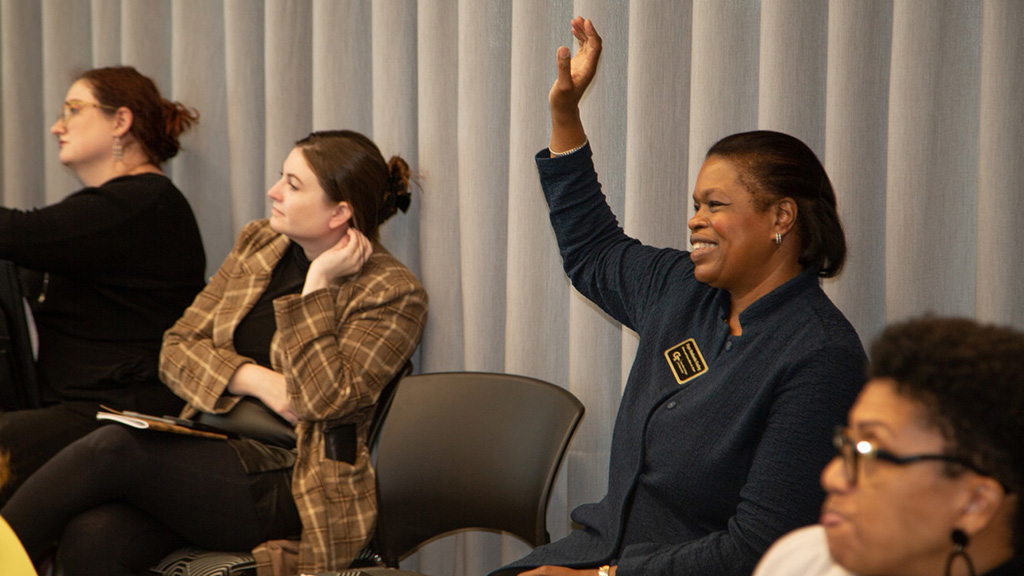 Later, Ivan Allen College faculty offered examples of integration in practice, from integrating social justice and cultural considerations into civil engineering practice to the wildly successful mixture of cognitive science, computational science, and creativity that informs Professor Brian Magerko's work on the EarSketch coding-through-music platform and other initiatives.
"The integration of other disciplines into STEM research has always been just sort of the way that I've looked at the world," said Magerko, who is part of the School of Literature, Media, and Communication.
Amanda Weiss, assistant professor in the School of Modern Languages, spoke about her East Asian Vertically Integrated Project (VIP) and the work of an engineering student who wrote articles for the VIP's science fiction magazine, translated an important Japanese story, compared her work to machine translations of the same piece, and created an interactive story to help explain the research. From just one project, the student ended up using analytical writing, critical thinking, coding, design, translation, and criticism of natural language processing, all wrapped up in storytelling techniques to reach broader audiences, Weiss noted.
"This kind of integration is creative, it plays with different fields and methods and explores and experiments," Weiss said.
Creating a 'Binocular Vision' for Humanities and STEMM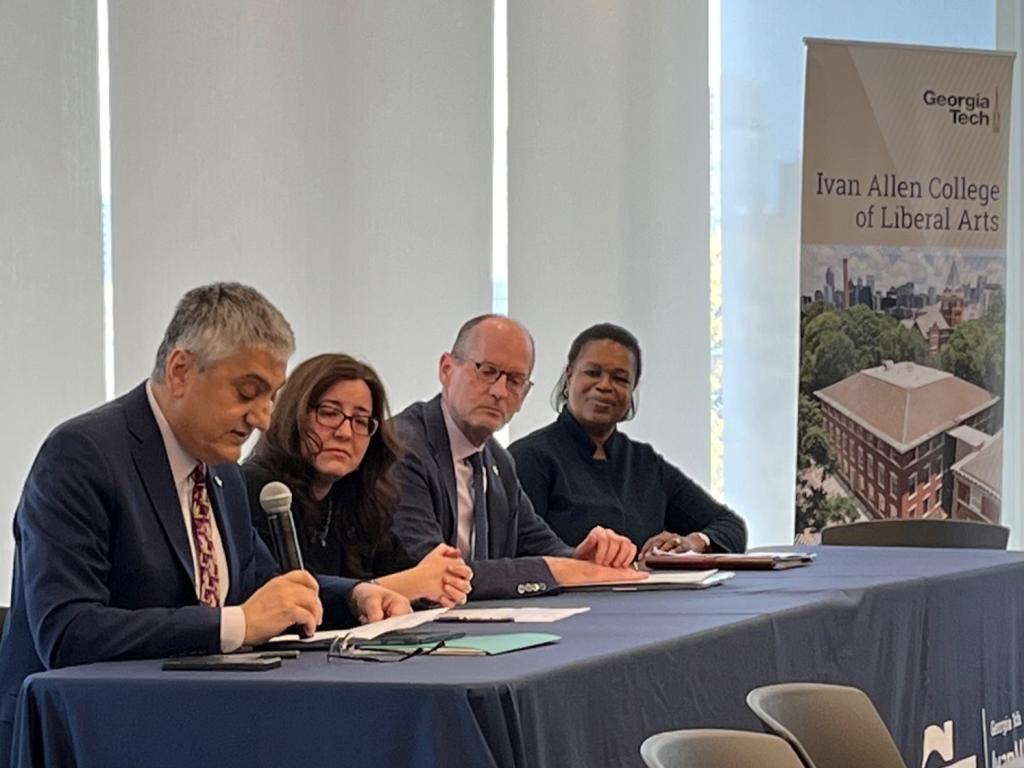 The symposium concluded with a keynote by Lisa Margonelli, editor-in-chief of Issues in Science and Technology. Her speech was a passionate plea for STEMM and the liberal arts to recognize how a deliberate fusion of both methodologies, a "binocular vision," will yield the solutions for many of the world's most complex problems. Creating such a vision demands that we rethink some of the ways in which higher education incentivizes and organizes research and teaching.
Among many other examples, she spoke about a program in Taiwan in which medical students meet the families of the cadavers they are studying, and how that transforms their approach to medicine, as well as a collaboration between scientists and artists studying Arctic ice formations. The collaboration created what one researcher called a "logic loop" in which science informed art, which then opened new avenues of inquiry for the scientists, resulting in "a cycle where engineering, art, and science interact to expand our knowledge."
"We have a lot of new technologies coming down the pike that require a lot of input from society, a lot of values, decisions need to be made," she said. "And also, as everyone here has mentioned, the values discussions need to come in much earlier in the innovation process than they are now. They shouldn't be at the end of the pipe. They should be right in the conception of them. And I actually think it could make better science."
Chaouki Abdallah, Georgia Tech's executive vice president of research, was among the respondents to Margonelli's speech. He called for close collaboration among social sciences, humanities, and STEM disciplines, but argued they aren't always as far apart as they may seem.
"While we may argue that one area is more beautiful or more useful, I think that the gulf is not between areas of study within the university," he said. That gulf, he argued, is really "between the universities, the research that is done by the people who are advantaged or privileged like we are, and the impact of such research to society at large."
Speaking later, Provost Steven McLaughlin suggested it's time to flip the narrative at Georgia Tech from technology influencing the humanities and social sciences to those disciplines influencing STEM fields. It is the liberal arts fields, he argued, that so often provide the crucial context to help not only advance technology but also improve the human condition.
"The context is so, so, so much more important than the technology," he said.
The Role of Liberal Arts in Shaping Technology
Where next? Kubanek, the research vice president, recalled Georgia Tech's long tradition of asking what can be done, and called for an inversion.
"Asking what can we do and why requires participation of humanists, artists and social scientists from the very beginning of the research, not at the end of the project when we try to ask the question, 'What are the implications of this cool doodad that I invented?'," she said. "So we need to build integrated teams from start."
"So that shift will be away from us or our technology-first kind of approach so that we ask, 'What should we do and why?' before we ask 'What can we do?' There will be evidence that this is happening when research teams are integrated from the very start and when research teams are actually often led by humanists, artists or social scientists, not only led by scientists and engineers."
Utz said he hopes to organize a second symposium next year to attract scholars from around the country to continue the conversation on higher education innovation. As a next step, the Ivan Allen College's three Provost's Teaching and Learning fellows — Robert Kirkman, Rachel Dean-Ruzicka, and Nathan Moon — will expand the symposium's focus from faculty to students, to find out where they see the specific value of studying the liberal arts within the framework of a technological university.
"I'm convinced that by increasing our already impressive collaborations with STEMM disciplines, the Ivan Allen College will be in an excellent position in the years to come to champion an excitingly holistic future of higher education at Georgia Tech," Utz said.