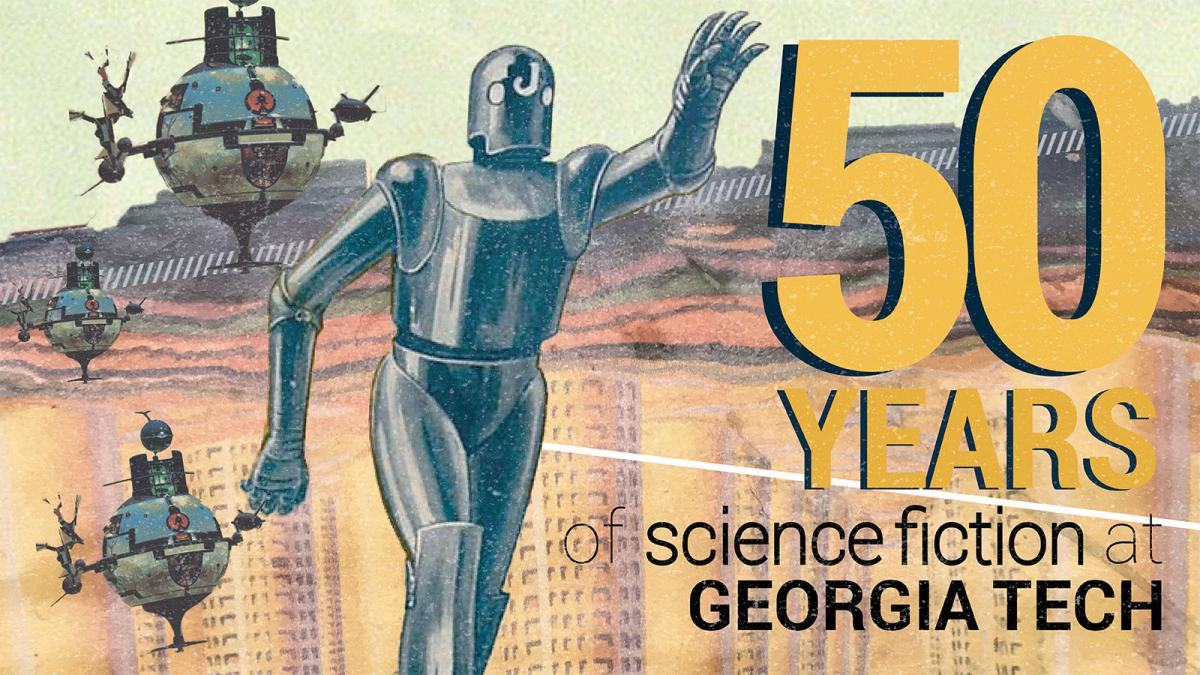 When Matthew Kressel was an undergraduate in the late 1990s, competition for Irving "Bud" Foote's science fiction classes was keen.
Foote, described in his 2005 Atlanta Journal-Constitution obituary as a "French-speaking, speed-reading, book-reviewing, poetry-writing, Princeton-educated scholar," led famously freewheeling classes that were highly popular with students.
"It was a mad dash," said Kressel, CS 1997. "People said to me after, 'How did you get in?' I said, 'I don't know. I just tried, and I got in.'"
In the 50 years since Foote taught his first science fiction class at Georgia Tech, much has changed on campus. At that time, there was no Ivan Allen College of Liberal Arts, and no College of Computing, for that matter. Russ Chandler Stadium and the Ferst Center for the Arts were not yet campus fixtures.
But one thing has not changed: the enthusiastic focus on the value of science fiction studies, an inclusive approach to the genre, and the presence of a highly regarded faculty in science fiction, including Regents Professor Lisa Yaszek, Afrofuturism expert Susana Morris, and science fiction film scholar Ida Yoshinaga — who joined the faculty this year.
"I think I can speak for the entire family when I say that Bud would be very pleased to see that the celebration at Georgia Tech is embracing Black, Indigenous, and People of Color (BIPOC) within this genre," said Anna Foote, Bud Foote's daughter. "Bud had a passion for supporting the work and creativity of all voices and creators within science fiction throughout his career."
The science fiction studies initiative and the Georgia Tech Library will celebrate 50 years of science fiction starting Oct. 14 with a series of special events (see sidebar).
"Given Georgia Tech's longstanding commitment to 'progress and service,' as we put in in our school motto, I'm not surprised that we were one of the first universities to embrace the serious study of science fiction across media. After all, science fiction is the premiere story form of the modern era," said Regents Professor Lisa Yaszek, Foote's successor and one of several faculty members in the Ivan Allen College who teach science fiction to Georgia Tech students, as well as researching the genre.
"Science fiction allows people who are not necessarily scientists or engineers to weigh in on widespread cultural and even global debates about the proper relations of science and society—and it allows scientists and engineers like my colleagues here at Tech to see how the rest of the world thinks about their work while imaginatively exploring the impact of science and technology on our lives."
Strong Ties, Rich Tradition
Fifty years after offering one of the first accredited science fiction courses at a U.S. university in 1971, the Ivan Allen College is home to half a dozen faculty in two schools — the School of Literature, Media, and Communication and the School of Modern Languages — with expertise in science fiction, fantasy, and horror across media and cultures. Current SciFi@Tech initiatives include the Science Fiction Minor for undergraduate students interested in studying science fiction alongside their majors; the Sci Fi Lab, where students from all majors and all levels of education can pursue independent science fiction research and production; and Hivemind, an online journal dedicated to studying and translating global science fiction.
Georgia Tech's science fiction faculty have also forged strong ties with the science fiction community in the Southeast and Atlanta, especially with Black, Indigenous, and People of Color (BIPOC) creators. For the past decade, LMC has hosted events in tandem with Atlanta-based State of Black Science Fiction Collective, including BlacktastiCon!, a convention featuring black artists and scholars from across the United States. Currently, LMC is a proud sponsor of the Atlanta Science Fiction Film Festival and Subsume: Life, a Black Speculative Creators Event, both of which have featured Georgia Tech faculty from LMC, the School of Modern Languages, and the College of Computing.
Irving "Bud" Foote delivers an introductory lecture on science fiction studies.
Library's Top 20 Science Fiction Collection
In addition to its academic initiatives, Georgia Tech also boasts a robust science fiction collection, a portion of which is available to check out in the Science Fiction Lounge on the first floor of the Library. The collection got its start in 1998 when Foote retired and donated 7,000 science fiction items to the Georgia Tech Library. Today, the Science Fiction Collection at Georgia Tech contains over 17,000 unique items and is considered one of the top 20 research collections of its kind in the world.
"With the Science Fiction Collection, and the Science Fiction Lounge, we can serve a variety of patrons," said Charlie Bennett, science fiction librarian and an alumnus of the School of Literature, Media and Communication. "Researchers and historians have access to rare books and pulp magazines, science fiction fans can find contemporary books in the circulating collection, and someone who doesn't care for science fiction at all can still enjoy those Kubrickian egg chairs in the Lounge."
During its 50-year history, LMC's science fiction studies initiative has captured the imagination of hundreds of Georgia Tech students across many of the Institute's degree programs, including Jason Ellis, STaC 2006, who credited his involvement with science fiction studies with contributing to his success. Ellis is now a professor at the City University of New York.
'Science Fiction Ties Everything Together'
"SF at Tech helped me discover the things that made my professional career possible: Wow, SF ties everything together — science, technology, and culture. Hey, maybe I'm better at writing about science than doing science. No way, there's a huge community of friendly and supportive SF scholars? And whoa, this is something that you can make a living doing? Sign me up!" he said.
Kressel, the computer science major, is now a Nebula Award-nominated science fiction author — in addition to working as a full-stack developer. He said Foote's class and the science fiction studies program helped rekindle his love of reading science fiction and helped set him on his writing career.
Continuing to teach it to today's Georgia Tech students is vital, he said.
"Science without empathy can be brutal," Kressel said. "One of the great things about science fiction is that it allows you to put yourself in someone else's shoes for a while and posit some alternate future and see how that plays out. It's important to teach, not just the empathy, but also that there are alternate possibilities for how our future plays out."
For more information about science fiction studies, including the minor, go to https://scifi.lmc.gatech.edu.
Events Celebrating Science Fiction's 50th at Georgia Tech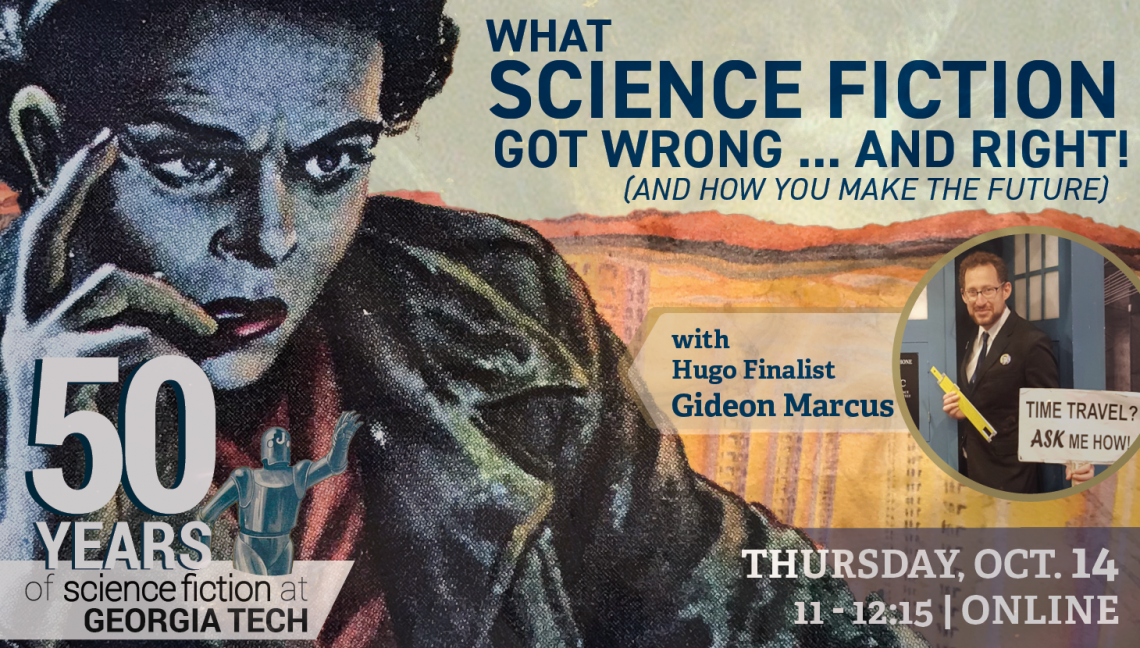 The Library and the Science Fiction Studies program in the School of Literature, Media, and Communication are teaming up on a stellar slate of activities celebrating the 50th anniversary of science fiction at Tech this fall.
The celebration begins on Oct. 14 with "What Science Fiction Got Wrong...and Right! (and how you make the future)," an online event featuring Hugo Finalist, Galactic Journey podcaster, and space historian Gideon Marcus.
During this free online session, Marcus will discuss science fiction's successes and failures in predicting the future and what that means for our ability to shape tomorrow.
Georgia Tech's celebration of its half-century commitment to science fiction continues throughout the semester with a five-part special Lost in the Stacks podcast, co-hosted by Ivan Allen College alumnus Charlie Bennett, Econ 1998, STaC 2000. Each of these special episodes will feature Georgia Tech faculty and students exploring some aspect of modern science fiction. The podcasts are scheduled to debut in early December 2021—just in time for finals.
The Library is also preparing an exhibit in the rice Gilbert Library gallery to celebrate the anniversary. It is based on a series of reading and viewing recommendations made by Ivan Allen College of Liberal Arts science fiction faculty in honor of Science Fiction Day in January 2021.
The faculty members looked back 50 years to titles that appeared that year, examining offerings as diverse as the astrobiology technothriller The Andromeda Strain, the feminist manifesto "The Image of Women in Science Fiction," and the influential Japanese science fiction novel, Inter Ice Age 4, all of which appeared the same year Foote was just beginning to teach science fiction at Tech.
The exhibit will debut on Oct. 29.
The anniversary celebration concludes on Jan. 27, 2022, with The Eugie Award Symposium for Speculative Fiction.
The symposium will bring together science fiction, fantasy, and horror authors, editors, and scholars from around the world. The Eugie Foster Memorial Award for Short Fiction (or Eugie Award) honors beautiful, thoughtful, passionate stories that change both individual readers and the field of speculative fiction as a whole.